Thousands stranded, 1 dead from Calif. thunderstorms
Crews are working to free about 2,500 people trapped by flash floods and mudslides after thunderstorms tore through the area
---
The Associated Press
MOUNT BALDY, Calif. — About 2,500 people were stranded early Monday after thunderstorms caused mountain mudslides in Southern California, while one person was found dead in a flooded creek, authorities said.
Mud, rocks and debris several feet deep blocked roads in the communities of Oak Glen and Forest Falls, and it could be several hours before crews cleared the way through, San Bernardino County Fire spokesman Ryan Beckers said. All residents in the two towns were accounted for and no injuries were reported, he said.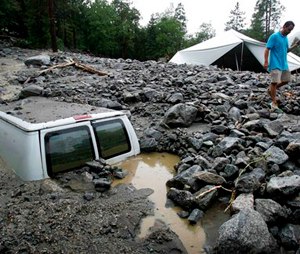 To the west, a body was found Sunday in a car that was swept into the rain-swollen water course in Mount Baldy and overturned, fire spokesman Chris Prater said. Coroner's officials identified the victim on Monday as Joo Hwan Lee, 48, of El Segundo.
About 1,500 residents of Oak Glen, and another 1,000 residents of Forest Falls were unable to get out because of thick debris flows caused by flash floods. The stranded include 500 children and adults who had arrived at a Forest Falls campground Sunday morning.
"Our concern is that they're isolated at that campground and no longer have access out of the mountain," Kyle Hauducoeur, another county fire spokesman, said.
Authorities made reverse 911 calls to urge residents to stay put while crews clear the roads with bulldozers. The muck was so thick it submerged a van in Forest Falls, while on Mount Baldy water swept a hot tub into the road.
Flash floods led to the rescue of several people. Hauducoeur said a woman in Mount Baldy was rescued from her house before it was buried in mud. Four additional homes in the Bear Creek area were damaged by the debris flow, he said.
San Bernardino County resources were stretched thin by the storm. Scores of swift-water rescue teams and fire engines had been dispatched to far-flung areas, county Fire Capt. Josh Wilkins told the Los Angeles Times.
"Every rescue unit we have, every fire engine we have in San Bernardino County" had been sent out, Wilkins said. "We are literally approaching the maximum right now in terms of our call volume."
In the Mount Baldy area, creeks swelled into rivers, submerging cars, Wilkins said. Authorities issued an order telling residents to shelter in place. One group rescued by emergency crews had been trapped in a home that was threatened by flooding and moving debris.
In the Angeles National Forest, a group of 4 or 5 people and a dog were airlifted to safety.
A U.S. Forest Service spokesman told KNBC-TV some campers had seconds to evacuate before a torrent of water washed their tents and belongings.
"It sounded like a freight train coming through," Robert Ethridge said.
Monsoonal moisture brought brief but fierce storms to mountain, desert and inland areas. In and around Palm Springs, knee-deep water flooded city streets and stranded vehicles. In the city of Redlands, the storm downed a tree and knocked out power to a few neighborhoods.
The downpour dumped as much as 3 1/2 inches of rain on Forest Falls, and nearly 5 inches on Mount Baldy, the National Weather Service said.
Authorities said crews were assessing the extent of the damage.
Harsh flash flooding hit the same area 15 years ago, when landslides sent boulders and trees plowing through 15 homes and creekside cabins in Forest Falls in the summer of 1999. One person was killed and five others injured.