Boston medic reflects on marathon bombing
Paramedic Katherine Dwyer recalls the challenges and triumphs — including seeing her first patient featured as a survivor on local news
Boston paramedic Katherine Dwyer never leaves the house without tourniquets.
She has some in her jump bag, her PPO bag and her flat vest — and also in her car, her truck and her purse. And she has taught all her loved ones how to properly use them, with the hope they will never have to.
"That's my PTSD takeaway," Dwyer said.
Around 80 percent of the 2013 Boston Marathon bombing victims required a tourniquet, and there weren't enough to go around. Many news stories told of people using belts, clothing, and anything they could get their hands on. Dwyer at one point turned to surgical drain hosing and a couple of Kelly clamps.
The changing faces of victims /survivors
She was in the medical tent attending to a runner when the first bomb went off.
"I remember thinking very quickly 'We don't do anything with cannons,'" she said. "By the time I finished the thought, the second one had gone off. And I knew."
Everything was still for a moment, then she heard a wave of voices and pounding footsteps as people ran from the explosion, and an announcement inside the medical tent said to prepare to receive large numbers of casualties.
"It happened so fast, we didn't have time to think what to do," she said. It was mostly a blur, but she does remember her first patient, a middle-aged woman brought in with one of the wheelchairs reserved for fatigued runners at the finish line.
The woman had a blast injury to her left lower leg below the knee. Dwyer applied a tourniquet just above the knee, and marked her with an urgent, red triage tag.
"And went on to the next one," she said. But unlike others she treated, Dwyer remembers her face.
"I'm pretty sure I've seen her afterward on some of the news reports," she said. But she's not certain; the healthy-looking person on TV is almost unrecognizable from the pale patient in her tent.
"The sickest people had lost such an incredible amount of blood," she said. "They're pink now. Before they were gray."
Difficult conversations
Outside the tent, anyone with a medical background — and many without — was trying to help. Podiatrists carried victims and emergency room nurses yelled for IVs, but there were no IVs. Everyone had tunnel vision: save the life in front of you. They didn't have Dwyer's mass casualty training.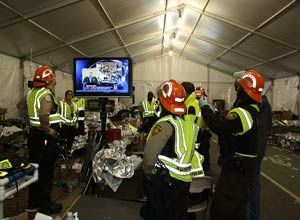 "Some of the more difficult aspects were working with a huge number of medical volunteers who didn't know, OK, here's the plan," Dwyer said. One of her recommendations after the action was to provide functional awareness-level triage training to volunteers so they at least have a sense of how EMS service works in such a situation.
One of her most difficult moments was seeing either volunteers or bystanders calling for help for a victim in traumatic arrest.
"It was very difficult to let them know this is not a survivable patient and there's nothing we can do," Dwyer said. "I wouldn't have had to have that conversation with an EMS provider. That changes the ball game, but we couldn't have done it without them."
Just doing her job
The fact that a mass casualty incident structure was already in place at the Boston Marathon was also a best case scenario, and a saving grace.
"We had an MCI within an MCI," she said. "Shame on us if it didn't go well."
Since the incident, Dwyer has heard many stories about survivors being reunited with rescuers, along with efforts to show appreciation toward Boston EMTs with gifts and recognitions.
"My instinct is, why don't you give this to the patient?" she said. Watching many of the victims adjust to using artificial limbs has been thanks enough.
"It's gratifying to see them up and walking around," she said. "They're going to be able to live productive, happy lives."