Ariz. city considering switch to fire department ambulance service
The expansion of the Mesa Fire and Medical Department's ambulance fleet and upcoming expiration of a contract with AMR has revived talks of a possible shift to public EMS
---
Jim Walsh
East Valley Tribune (Mesa, Ariz.)
MESA, Ariz. — For at least 15 years, Mesa fire officials have contemplated launching their own ambulance service but have always held back, deferring to the private sector.
That was when Southwest Ambulance was based in Mesa and the service provided met Mesa's standards.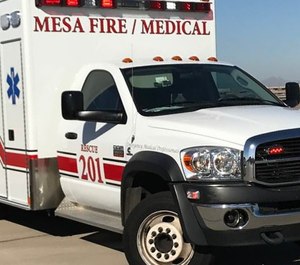 But the company is long gone, swallowed up by corporate mergers. Now, things have changed.
With a long-term contract with industry giant American Medical Response, or AMR, about to expire at the end of November, Mesa is exploring its options.
While no final decision has been made, the Mesa City Council is expected to authorize the purchase of six new ambulances on Monday, Aug. 31, at a cost of $1.6 million, doubling the city's fleet to 12.
The move comes almost a week after Gilbert Town Council did the same thing, voting to purchase six ambulances and replace AMR – a move that company officials called unwarranted.
Candace Cannistraro, Mesa's management and budget director, said the funding comes from the Ambulance Transport Fund that cromprises revenue generated from patients using the service.
She said the city has three ambulances in use, working 12-hour shifts staffed by one civilian paramedic and one civilian emergency medical technician. Three more units are expected to go into service in December.
Purchasing the additional ambulances puts Mesa in a strong negotiating position with AMR, at minimum, and appears to lay even more of a foundation for the Mesa Fire and Medical Department to launch a potential service of its own.
"Our philosophy was, if the contractor provided the service, there was no need to get into the ambulance business,'' said Gary Bradbury, a long-time Mesa firefighter who supervised the ambulance contract for years.
"Mesa has been very conservative about getting into that process and moving a service from the private sector to the public sector,'' Bradbury said.
But he said dealing with a large company like AMR can be different from dealing with a locally-based company like Southwest Ambulance.
Bradbury launched his own ambulance service when he was Rio Verde's fire chief, after private contractors weren't willing to cooperate.
"I think it's a choice issue,'' Bradbury said. "They are at least halfway to having the ambulances they need'' after the ambulance purchase. "They could get the ambulance service going in short order. In 90 days, they could be up and running,'' he said.
Mesa would need to double that fleet again, with at least 22 ambulances, to launch such a service, Fire Chief Mary Cameli said.
But that only would happen after a thorough financial study by the city's management and a decision by the council, she said.
"It's a work in progress. No decisions have been made,'' Cameli said. "We can be flexible and look at our options in the future.''
She said the ambulance service being provided by Mesa directly is part of a pilot program started with six ambulances in 2018.
The city-operated ambulances primarily serve west Mesa on mostly low acuity, or non-life-threatening calls.
But if a Mesa unit is closer than an AMR unit, the Mesa unit is dispatched to handle the more serious calls, Cameli said.
"We've been talking to them'' about extending the contract, Cameli said, but it may be on a year-to-year basis rather than a long-term basis.
Cameli stressed that all Mesa ambulances, including the new ones when they go into service, will be used exclusively to respond to 911 calls and not to transport patients from one facility to another as AMR also does.
"Anytime you add ambulances to the system, it will allow us to get to calls quicker,'' Cameli said.
Mesa Fire has always considered itself a leader in innovation.
Officials have placed behavioral health counselors on some units to handle mental health issues and hope to add nurse practitioners if a partner can be secured and a federal grant can be obtained.
Deputy Fire Chief Forrest Smith said that AMR typically handles about 34,000 ambulance calls a year in Mesa while city units respond to about 4,000.
While Vice Mayor Mark Freeman said his understanding is that the Mesa ambulance service is self-sustaining, Smith said the financial cost is still being analyzed.
Cameli said that operating the new ambulances will generate more data for review before the city determines its next step.
"At this time, we are focusing on the operations of the program, the service delivery, and in providing quality patient care. We are still in the process of evaluating the financial aspects of the program,'' Smith wrote.
Freeman, a retired Mesa paramedic, said he is excited about the prospect of Mesa operating its own ambulance service.
He said all new Mesa fire stations, including station 211 in east Mesa, are designed to accommodate an ambulance and an ambulance crew.
The wording on the council's agenda for Monday night says, "this purchase is in support of the transition of providing Basic Life Support and Advanced Life Support to the city.''
Freeman said a contract extension with AMR would help provide a seamless transition, if Mesa decided to run its own service. He said AMR might also be used to backfill Mesa's system when units are tied up on calls or down for maintenance.
"I'm excited to say the least,'' Freeman said. "They will respond directly out of the fire stations. It will be a fast service.''
Freeman looks at a city-run ambulance service as an improvement in addressing the needs of Mesa residents, saying Mesa would gain control over the ambulance service by supervising crews as city employees.
But he also said he doesn't want to create a burden on taxpayers.
"As long as it's self-sustaining, I'm on board,'' Freeman said.
Matt Zavadsky, chief strategic integration officer at MedStar in Fort Worth, TX., urged Mesa to use extreme caution before launching its own service.
He said fire-department based ambulance services are typically far more expensive and less efficient than private companies. Medstar is unique as a public utility that serves 14 North Texas cities.
"The decision about whether you provide your ambulance service needs to be considered very carefully. It's not a decision to be taken lightly,'' Zavadsky said. "The financial obligations are significant.''
He said MedStar is the lowest cost ambulance provider in Texas, averaging $403 per transport, compared with a statewide average of $1,900, with fire-based services costing as much as $2,700.
"The 911 calls are big losers for fire companies,'' he said, noting only about 10 percent falling into the advanced life support category that is reimbursed by Medicare.
Texas statistics provided by Zavadsky show the average charge per trip was $1,169 for fire department- based emergency medical service, compared with $1,390 for non-fire-based services.
The average cost per trip was $2,208 for the fire department services compared with $935 for the non-fire department service.
He said MedStar's efficiencies are achieved by staffing based on peak and off-peak times, and by combining 911-related trips to the hospital with facility to facility patient transfers.
"A community should take into account the cost-benefit analysis,'' Zavadsky said.
———
©2020 East Valley Tribune (Mesa, Ariz.)
McClatchy-Tribune News Service