Pa. parents charged in overdose death of infant
A couple with a drug-use history have been charged in the death of their 10-month-old child, who authorities said died after ingesting a derivative of fentanyl
---
By Katie Park
Philly.com
CLIFTON HEIGHTS, Pa. — After a 7-month investigation, two parents have been arrested in the drug overdose death of their 10-month-old daughter earlier this year.
Joseph B. Milano, 31, and Lauren Semanyk, 34, both of Upper Darby's Clifton Heights section, were each charged Wednesday with third-degree murder, involuntary manslaughter, and conspiracy, among other charges, authorities said at a news conference Thursday at Upper Darby police headquarters.
On April 16 around 1:20 a.m., police found the couple's daughter, Angelina Milano, dead at their home on the 5000 block of Westley Drive. Joseph Milano met the responding police officer outside while holding Angelina in his arms and shouting that she was not breathing, according to an affidavit of probable cause.
Milano said she drowned in the bathtub, but when the autopsy showed the girl died with no water in her lungs, investigators' skepticism heightened, said Michael Chitwood, superintendent of Upper Darby police. He said Milano and Semanyk also gave conflicting timelines of what happened the night the child died.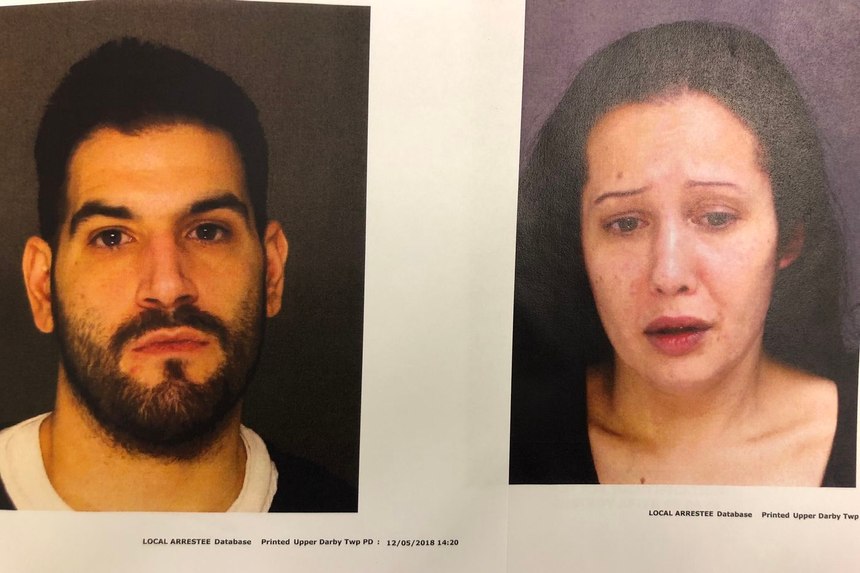 A toxicology report showed the child had ingested 3-Methylfentanyl, a chemical analog of the synthetic opioid fentanyl, according to an affidavit.
"It's sad," said Chitwood. Delaware County District Attorney Katayoun M. Copeland, Upper Darby Mayor Thomas Micozzie, and Detectives William Sminkey and Thomas Thompson stood near him. "I've got a great-grandchild that old who happens to be a little girl. It hits home. ... It didn't have to happen."
In interviews with police described in affidavits, Milano told investigators he had been at home with his children on April 15 when Semanyk, a licensed practical nurse, went to work the evening shift at ManorCare Health Services in nearby Yeadon. He watched television in his bedroom for a while, then got up to check on Angelina when he realized she had been quiet for some time.
Milano found Angelina on the bathroom floor with a piece of blue wax paper in her mouth "looking out of it and groggy," according to an affidavit. Investigators said they were aware heroin is often packaged in blue wax paper and that Milano and Semanyk had histories of drug use.
In an attempt to revive her, Milano told police he held a wet towel to Angelina's forehead and ran her head under cold water from the tub's faucet, according to an affidavit. He also called Semanyk at work several times and asked her to come home immediately without saying what had happened to Angelina. In the meantime, he flushed the wax paper the child had in her mouth down the toilet.
After Semanyk came home within five minutes, she told investigators she had listened to Angelina's chest with her stethoscope, rubbed her sternum, performed CPR, and rubbed her back for several more minutes until the child spit up some water.
But in the hours after that, authorities said the couple deliberated for at least six hours about what to do with their daughter. At one point around 10:43 p.m. April 15, a Delaware County dispatcher received a call from Milano, who then promptly hung up. The dispatcher called back, but Milano said "it was a mistake and everything was OK," according to an affidavit.
In that time, Chitwood said Thursday, Angelina's condition rapidly declined. When Milano called 911 again at 1:17 a.m. April 16 and asked for an ambulance, the responding officer saw the child's skin had turned gray and she had no pulse, investigators noted.
Medics took Angelina to Delaware County Memorial Hospital, where she was pronounced dead at 2:02 a.m. At the hospital, Semanyk told a police officer "it was possible" Angelina had ingested heroin, according to an affidavit.
Milano was already in jail on a driving-while-intoxicated charge when authorities charged him with the death of the infant. Semanyk, officials said, turned herself into police around 5 p.m. Wednesday. Neither was offered bail. Both have their preliminary hearings scheduled for Dec. 13.
The couple's other child, an 8-year-old girl, was sent to live with relatives, Chitwood said.
"A family has been destroyed," said Copeland, the district attorney.
Copyright 2018 Philly.com
McClatchy-Tribune News Service