EMS1 Exclusive: EMS managing stress and fatigue at Ferguson
While reduced riots bring the hope that the situation may soon diffuse, responders are prepared to go on for weeks
---
By Greg Friese and Cate Lecuyer 
Christian Hospital EMS Chief Chris Cebollero was sitting down reading grand jury testimony of the decision not to indict police officer Darren Wilson in the shooting death of Michael Brown, when he fell asleep.
"I just do what I need to do," he said. "As my body tells me I need to sleep, I sleep." 

His Assistant Chief Brian Hokamp was overseeing EMS crews Wednesday during the day as riots continued in and around Ferguson, Mo.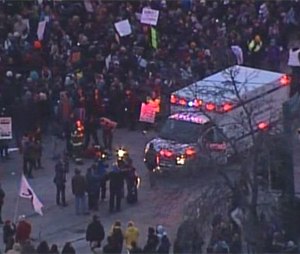 After the dramatic arrival of the National Guard, the chaos and mayhem of the first night of protests was not repeated the second night. EMS1 video producer Ray Kemp, who has been embedded with fire and EMS on the scene, watched them roll in. 
"Bus after bus of soldiers arrived at the command post," Kemp said. "The Guard presence, along with closure of West Florissant reduced the level of activity."
Cebollero agreed, saying the colder temperatures and snow may also be a factor. 
"It wasn't the all-out challenge that we had Monday night," he said. 
Yet police, fire, and EMS responders need to maintain constant vigilance as the conditions could change at any time. And EMS also needs to respond to calls unrelated to the Ferguson protests.
"There's a business to run still," Cebollero said. "There are people not involved in the Ferguson event that need our care." 
Opportunity to step up 
While reduced riots bring the hope that the situation may soon diffuse, responders are also prepared for the fact that it could go on for weeks. Cebollero, who said he's used to long hours, has also spread out the leadership by putting Hokamp in charge on the nightshift, and is thinking about bringing in a third supervisor to help manage crews. 
Not only does it make sense from a staffing standpoint, but it's a good opportunity for them to gain leadership experience, he said. 
"I look to each of them to step up," he said. "This is a great education for them to be put into the spotlight, and make real-life decisions." 
Cebollero has also been keeping tabs on providers' stress and fatigue levels, and is strategically scheduling them so that they're not overworked. Christian Hospital EMS is operating with its normal level of staffing, but two additional trucks have been provided at the regional level, and if it becomes necessary he plans to reach out for additional resources. 
Yet regardless of how tired or stressed they actually are, many providers are eager to respond; for many, Ferguson is their home. 
"I lot of our work force is from the northern county of St. Louis and they're saddened by what's happening in their community," Cebollero said.
"But they want to be there to care for their neighbors." 
Day vs. night
In terms of safety, as Kemp has been filming he hasn't seen any evidence that EMS or fire is being specifically targeted. 
"But we did find bullet holes and cooper casings embedded in one of the SWAT team trucks from the first night's gunfire," he said. "Guns are being aimed at the police."
The EMS1 video crew also observed that the people participating in the protests changes dynamically throughout the day and evening. 
"Many others have commented on this as well," he said. "When it gets dark, people with violent or criminal intentions are much more likely to slip in and out of the area." 
Cebollero has noticed this too, and said that especially in the evening crews are sitting, waiting, and expecting to respond to calls related to tear gas and gunshots. 
Trauma calls are stressful, without a doubt. But from an EMS perspective he said often times medical calls – like responding to an infant with cardiac arrest – can be more challenging. 
And sometimes, the two are combined. Tuesday night, for instance, EMS crews were ready for an assault, but instead they ran a seizure call right in the middle of the protests. 
"There are people down there that have real medical conditions that need to be taken care of," he said.