Mother, 2 daughters killed in Miss. Halloween crash
The crash occurred when a pickup truck collided with a trailer carrying 10 Halloween participants
---
By Emily Wagster Pettus
Associated Press
CHUNKY, Miss. — A pickup truck slammed into a small utility trailer carrying 10 Halloween revelers in a small Mississippi town, killing a mother and her two daughters, authorities said Tuesday.
The crash happened after dark Monday night as both vehicles were traveling westbound on U.S. Highway 80, said Mississippi Highway Patrol Staff Sgt. Andy West. The highway has two lanes and no visible streetlights.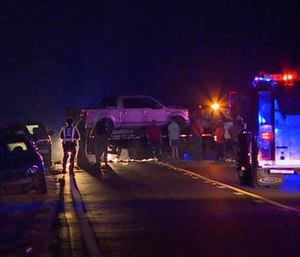 The children were dressed up in costumes for Halloween, West said. Pieces of still-wrapped Lifesaver Gummies, MilkyWay and Kit Kat chocolate bars and Starburst candies could be seen scattered by the roadside at the crash site Tuesday.
The other seven people on the trailer, including three children, two teenagers, and an adult woman, were sent to three hospitals, West said. Their conditions were not immediately known. Initially after the crash, authorities said six people were in critical condition. West did not know the age and gender of the seventh injured person.
Killed were Kristina Shaver, 33, and her daughters, Baylie, 8, and Brooke, 2, all from the small town of Chunky, authorities said. The driver of the Jeep, Terry Smith, 58, of Chunky, and his two passengers escaped injury, as did the driver of the pickup, Chase Cook, 20, of Decatur, authorities said. No one has been charged.