15-year-old Fla. equestrian rider dies after horse falls on her head
EMTs responded quickly and transported the girl to a Sarasota hospital
---
By Zach Mentz
cleveland.com
VENICE, Fla. — A 15-year-old equestrian rider died Sunday after the horse she was riding knocked her off and fell on her head, according to the U.S. Equestrian Federation.
Hannah Serfass, of Webster, Florida, was riding Quaxx 2, a 12-year-old Holsteiner gelding, in an equitation class at Fox Lea Farm Spring Concours I in Venice, Florida. During the class, the horse tripped and suffered a "rotational fall," unrelated to a jumping effort, and fell on top of Serfass, according to USEF.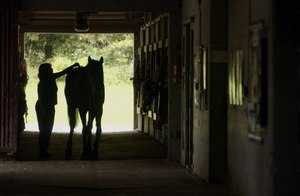 "The horse landed the jump successfully and took two or three steps/gallops toward the next hurdle and for unknown reasons planted its left foot, which caused the horse to lean down significantly towards its left front hoof," the Sarasota County Sheriff's Office said, according to reports. "This action caused the rider to then topple forward and off the horse in the same direction and onto the ground. The horse then continued to fall in the same direction falling over and onto the rider's head on the ground."
EMTs responded immediately, and Serfass was transported to Sarasota Memorial Hospital where she was pronounced dead.
USEF described Serfass as a "very talented and up-and-coming young rider," who was known for her passion for horses, her natural ability and her work ethic.
"The USEF, USHJA ( Hunter Jumper Association), and Fox Lea Farm team wish to extend our deepest condolences to Hannah's family, support team, and friends," USEF said in a statement. "The Federation takes every accident very seriously and will be reviewing the accident thoroughly to learn what we can do to minimize risk and increase safety in equestrian sport."
The horse was uninjured in the accident, according to USEF.
©2023 Advance Local Media LLC.
Visit cleveland.com.
Distributed by Tribune Content Agency, LLC.
McClatchy-Tribune News Service