NJ bill would require BLS ambulances to carry epinephrine auto-injectors
The bill was recently advanced by the state Assembly Health Committee
---
By Laura French
TRENTON, N.J. — A New Jersey bill that would require all basic life support (BLS) ambulances in the state to carry epinephrine auto-injectors was advanced by the state Assembly Health Committee on Wednesday. 
The bill, sponsored by Assemblymen Gordon Johnson (D-Bergen), James Kennedy (D-Middlesex, Somerset, Union) and Raj Mukherji (D-Hudson), would also apply to BLS volunteer first aid, rescue and ambulance squad vehicles, and require that all BLS vehicles be staffed with at least one EMT certified to administer epinephrine, according to a press release from the New Jersey Assembly Democrats.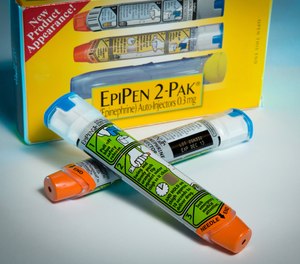 "First responders are often all that stand between someone experiencing a severe allergic reaction and death. Our state can avoid tragically preventable losses of life in instances of anaphylaxis by requiring all basic life support ambulances to carry epinephrine," the bill sponsors said in a joint statement. "Having this life-saving medicine on hand in every ambulance will help ensure patients throughout our state can be stabilized during the critically-important window of time before they arrive at the hospital."
After being approved by the Assembly Health Committee, the bill now heads to the Assembly Speaker for further consideration.