Why hospitals need strong EMS leaders
Macro changes in health care are driving the need for strategic relationships between hospital and EMS leaders
---
LAS VEGAS — The rapid change in health care and the issues hospitals are facing make it increasingly important to have strong relationships in place between EMS and hospital leaders.
Robert Brooks, the VP and COO for Erlanger (Chattanooga, Tenn.) Health System, described current health care issues to EMS leaders at EMS World Expo. Those issues included:
The health care exchanges created by the Affordable Care Act are struggling to enroll and retain Americans, especially young people.
Medicare payment cuts to fee-for-service are becoming the norm.
Many U.S. states ignored the Medicaid expansion. 
Medicare value based purchased that pays for performance based on patient outcomes.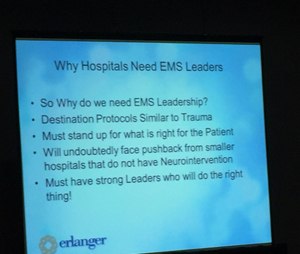 Brooks started his career as a paramedic and flight nurse. He is certified in health care management and is a fellow of the American College of Healthcare Executives.
Memorable quote
"Within 10 years patients discharged from ICU will go directly home. Hospitals not doing that will be losing money."
Key takeaways
Brooks described several opportunities for EMS and hospitals to partner. Some of those opportunities include:
Prevention of hospital readmissions
Follow-up care for uninsured and underinsured
Annual prevention care and vaccinations
Home telemedicine consults
Shifting medical care outside of hospital walls
Brooks also briefly touched on the recently concluded SWIFT PRIME trial. The best stroke patient care, like trauma and STEMI, is done at a specialized neurocenter, which requires EMS leaders to create policies and practices to bypass the closest hospital and leverage technology.