Ethics and leadership training for EMS practitioners
16-hour NAEMT PEPL course uses case discussion and interactive lectures to teach skills important to the exercise of personal, ethical leadership
---
LAS VEGAS — EMS practitioners took turns presenting ethical dilemmas, drawn from real-life experiences, to one another during a series of interactive-case presentations during the Principles of Ethics and Personal Leadership (PEPL) course at EMS World Expo.
Some of the scenarios discussed by the group during the first day of the course included a medic arriving to work under the influence of alcohol, an employee calling out sick and then being seen out in the community, and EMS students posting photos of patients to social networks.
"Two students, during their clinical, helped deliver an infant," said Leslie Hernandez, PEPL instructor. "They had the mom's permission to take a photo with this beautiful child, but posting it to social network was not allowed by our program policy."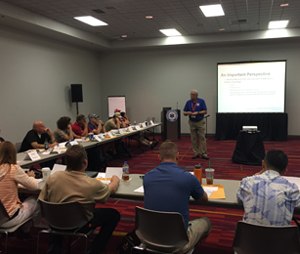 For each scenario students discussed the risks of the current situation, options for immediately resolving the situation, consequences for the current misbehavior and possible long-term solutions to treat the underlying problem.
"For each of these problems there might be cultural or gender differences in how individuals respond to these problems," Hernandez said.
The 16-hour PEPL course from NAEMT provides EMS practitioners with the necessary knowledge and skills to effectively interact with patients and their families, other medical personnel, co-workers, supervisors and community residents at large. The course attendees came from EMS systems of all types and sizes and several countries.
Through facilitated presentation, dialogue and learning activities, including written and video case studies, students will explore the importance of ethics and personal leadership, identify their leadership roles in civic life as individuals, family members, professionals and members of the community, and practice the skills important to the exercise of personal, ethical leadership.
Participants receive 16 hours of CECBEMS-approved credit and the textbook is included in the course.