President Biden issues proclamation honoring EMS providers' courage and dedication
"We have a duty to care for those who care for us," President Joe Biden said
---
By Sarah Roebuck
EMS1
WASHINGTON — Ahead of EMS Week, President Joe Biden issued a proclamation declaring May 21 through May 27, 2023, as National Emergency Medical Services Week.
In the proclamation, the president called upon the nation to honor and appreciate the selfless work of EMS providers who tirelessly serve their communities.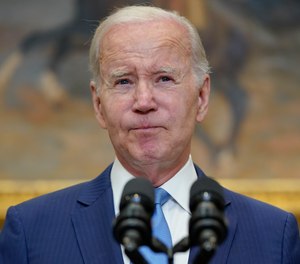 "The pandemic made every American aware of the absolute courage and incredible sacrifices made by EMS providers nationwide," Biden said in his proclamation. "They have had to work longer hours, taking on new roles and new risks, often at great personal cost — whether braving a deadly virus, rushing to save victims of gun violence, enduring dangerous natural disasters, or simply supporting people at the most vulnerable moments of their lives.  We owe them.  We have a duty to care for those who care for us."
[Related: EMS Week 2023: 3 ways to celebrate]
The annual observance of EMS Week aims to recognize the invaluable contributions of paramedics, EMTs, 911 dispatchers and other first responders who demonstrate unwavering courage and compassion in the face of adversity.
 "Saving lives is not just what tireless EMS providers do — it is who they are.  I have seen their commitment up close.  They are the steel spine of our Nation, and they give each of us the peace of mind of knowing that someone will be there to catch us if we fall," Biden said.