Ohio medical director honored for 'cutting-edge' initiatives
Winner: 'There's no way I will ever feel worthy of this award. I can only hope my future endeavors are in keeping with his tradition'
---
By Jamie Thompson
EMS1 Senior Editor
BALTIMORE — A medical director whose cutting-edge prehospital initiatives have been pushed to the forefront in the field in his region was recognized for his achievements at EMS Today in Baltimore on Thursday.
William "Randy" Marriott, of the Dayton, Ohio, Fire Department, was presented with the John P. Pryor Award by the Street Medicine Society.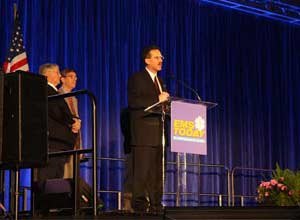 It was created in honor of Dr. Pryor, who was killed by mortar fire on Christmas Day, 2008, in Iraq while serving as a trauma surgeon in the U.S. Army Reserve Medical Corps, 1st Forward Surgical Team.
"It's clearly very humbling to win an award such as this named after John Pryor," Marriott said as he accepted the award.
"There's no way I will ever feel worthy of this award. I can only hope my future endeavors are in keeping with his tradition.
"Probably the most amazing thing to me about receiving this award is I can receive it doing something I love."
Marriott also serves as medical director for the Greater Miami Valley EMS Council, and chairs the Standard Orders Committee, which provides protocols, training and guidance for every EMS agency and fire department in the Dayton area.
In giving the award, The Street Medicine Society praised Marriott's leadership in working toward his region's Cardiac and Stroke Alert programs, IO access, CPAP, surgical airway management, intranasal medical delivery, drug-assisted intubation, field cervical spine clearance, end-tidal CO2 monitoring, Drug Bag Exchange Program, and post-arrest therapeutic hypothermia.