Legal pitfalls for EMS personnel outlined at EMS Today session
Attorney Doug Wolfberg, who has been involved in EMS for more than 30 years, outlined the key issues during the presentation
---
By Jamie Thompson
EMS1 Senior Editor
BALTIMORE — Legal pitfalls for supervisors were outlined during a session at EMS Today in Baltimore on Thursday.
Attorney Doug Wolfberg, who has been involved in EMS for more than 30 years, outlined the key issues during the presentation, which include: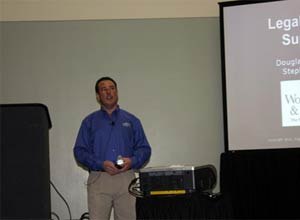 Virtually 95 percent of EMS lawsuits' root cause relates to bad attitude
Rudeness and not communicating effectively
Burnout, apathy and laziness
Second guessing leads to disaster for the patient and the EMS agency
During the speech, Wolfberg outlined how frontline supervisors are the key to success in dealing with organizational issues, and highlighted a range of measures for how they can be dealt with.
With employees who have performance problems, for instance, Wolfberg said most will respond well to "constructive counseling" or other feedback, and that they will change their behavior for the good when the supervisor handles it correctly.
One major issue facing EMS today, the session was told, is the fact people in every industry are not only looking to change jobs at multiple times in their lives, they are also looking to change careers, too.
"We are competing with all manner of businesses inside and outside of health care and public safety," Wolfberg said.
"The ability to work well with those that we supervise or manage is not only a human relations issue, it's an economic issue as well as we have to compete for labor in this rather bizarre environment today."
Wolfberg went on to question the wisdom of how the promotion system works in many agencies across the country.
"Sometimes it seems to me as if the people promoted or put into management positions or supervisors in our organizations are because 'Sally is a great medic so let's make her a supervisor; Bob is a wonderful EMT so let's promote him,'" he said.
"It seems to me we have to hold a mirror up to ourselves and take a critical look at what we do.
"Is the skill-set as a field provider necessarily the same skill-set to be a manager, a supervisor or a leader of people? Not at all.
"What is it in our industry that makes us think these skills are transferable? We know of people that are born leaders, but in most cases it's not."
The session was also told of some common management problems within EMS, such as supervisors making changes and then expecting employees not to question them.
"When you're implementing these changes and you expect people not to question them, you're living in a fantasy world," Wolfberg said. "That tends to be where 'power rather than authority' comes out — 'do it because I say it.'
"We should expect people to question it. We want them to be thinking about these changes."
Other issues within management, according to Wolfberg, are:
Trying to please everyone at the same time
Failure to take responsibility as a leader
Failure to see the bigger picture
Failure to get input from staff and listen to their concerns
Failure to keep in touch with your employees
Treating your employees with intimidation and threats
Managers who look the other way/fail to confront bad behavior
Another challenge that managers and supervisors face, said Wolfberg, is managing the unrealistic expectations of new employees entering EMS — that it's all lights, sirens and action.
"They will be inherently and unavoidably disappointed when they have to endure routine transports," he said.
"When expectations and reality have that big of a divide...it can lead to frustration, apathy, burnout, and fatigue."