Anthro Attendant aims to offer more comfortable ride
The lightweight seat made by Wise Emergency Medical Seating was unveiled at EMS Today in Baltimore
---
By Erin Hicks
EMS1 Associate Editor
A lot happens in the back of an ambulance. You need a seat in the back that you can spill stuff on, comfortably seat a patient's family on, and bump into.
That's the beauty of the Anthro Attendant, made by Wise Emergency Medical Seating, which was unveiled at EMS Today in Baltimore. It's designed to be both strong and sleek, but what makes it so unique is the fact it isn't made with any vinyl or upholstery and the seat has a soft, seamless outer skin manufactured using Polyurethane Intergral Skin technology.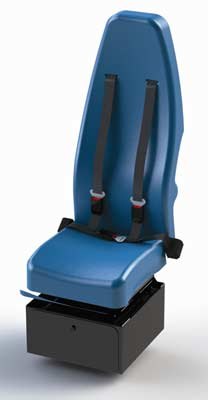 "This unit is completely sealed so there's no way any fluids can seep down into it," said Teresa Williams, sales manager with Wise EMS. "When you have vinyl in a seat, if you go into cold climates, vinyl can crack and this will not. There's so much activity that's going on in the back of an ambulance that if this seat was accidentally cut, you won't see a rip."
In addition, the chair's lightweight material makes it around 20 pounds less than other chairs on the market.
"The primary thing is the sleekness of it. It's more slender, it's going to take up less space in the back of the ambulance and since there is no upholstery, you'll get probably 10 times the life cycle out of it," said Williams.
Even though there are no real regulations with how responders are to be confined in the back of an ambulance, Williams said Wise EMS is trying to be proactive by designing their chairs to meet the forthcoming NFPA 1917 Standard for Automotive Ambulances.
Not only is this chair functional, but it also feels good, according to Williams. It's ergonomically designed to offer back and hip support — no matter what your height is.
"Once people sit down in it, they love how comfortable it is," Williams said.
The first iteration of the seat is available now, but coming up soon they'll offer the same design for a child and also for a multi-patient transfer. How that will work is two seats will have a section that folds out, and a backboard can be strapped to the chairs if more than one patient needs to be transferred. You can expect to see these chairs after fall this year.
Wise Emergency Medical Seating offers seating, bases and cusions for the EMS market. For more details on the Anthro Attendant email Teresa Williams TWilliams@WiseSeats.com.