PRESS RELEASE
Technimount System wins the 2019 EMS World Innovation Award with the Cardiatek® Mounting System
---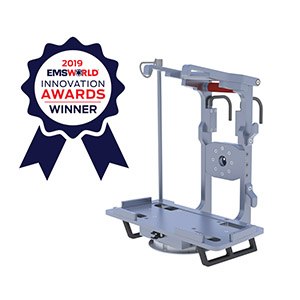 Quebec, QC ― Technimount System ("Technimount"), manufacturer of versatile mounting solutions for portable medical devices, has won the 2019 EMS World Innovation Award with the Cardiatek® System, a universal mounting solution designed to secure Abiomed's Automated Impella® Controller (AIC). The AIC controls the world's smallest heart pump which enables the heart to rest by improving blood flow and/or performing the pumping of the heart.
The Cardiatek System is setting the standard in terms of specialized mounting solutions for the secure transport of medical devices in EMS applications. This innovative system is designed to secure a very specialized device during critical care and EMS inter-hospital transport (from the ground to air ambulances) and intra-hospital transport. This flexible mounting system can be used in applications such as on a surface, floor, cot/stretcher, and wall, as well as fits any ground and air ambulance configuration in North America and Europe.
The Cardiatek System is a robust solution that complies with the highest industry safety standards for the transport of medical equipment such as SAE J3043. It is also designed to meet Transport Canada and FAA airworthiness standards. This mounting solution ensures that the medical device is secured during transport to avoid possible injuries to patients and crew as well as reduces risks of damage, causing costly repairs or complete replacement of the medical equipment.
"The Cardiatek System is the most flexible mount ever created and it makes us very proud that it has won the 2019 EMS World Innovation Award. Designing such an innovative solution is accomplished with a team of specialists and collaborators" – said Carl Bouchard, Founder and CEO of Technimount System.  "With the valuable contribution of our internal teams, the medical device companies, and end-users, Technimount provides solutions that answer a growing need for the secure transport of a multitude of different medical equipment in EMS and Critical Care applications".
About Technimount System
Technimount engineers mounting solutions that provide medical teams with a complete system for portable medical equipment management during patient transport. Technimount's unparalleled universal mounting systems can fit multiple brands, models, and applications of portable medical devices for hospitals, EMS, and military environments.

Request more info from Technimount E.M.S.
Thank You!