Technimount System unveils mounting product line for ventilators
---
QUEBEC CITY, Quebec — Technimount System, manufacturer of versatile mounting solutions for portable medical devices, has launched its Bracket Pro Serie® for Ventilators, the most complete product line dedicated to specialized medical devices during the EMS Today Conference, in Tampa, Florida.
The complete Bracket Pro Serie (BP) product line includes mounting systems for ventilators such as: EMV+® from Zoll (BP-26), Hamilton-T1® from Hamilton Medical (BP-60), Crossvent® (BP-100) from Bio-Med Devices, EnVe®/ReVel® (BP-105) from Vyaire Medical, and Monnal® (BP-110) from Air Liquide Healthcare.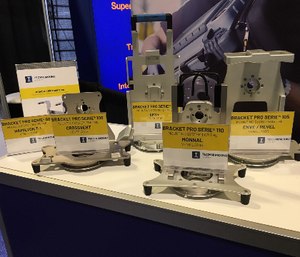 These mounting systems respond to the needs of Critical Care Transport (CCT) services to transport safely a high volume of life-sustaining medical devices at the same time, during critical care and EMS inter-hospital transport (from the ground to air ambulances) and intra-hospital transport.
Currently, CCT services are faced with finding the best place to put life-sustaining medical devices during transport from the bedside, to the ambulance and to the new hospital. Technimount's unique offering resolves this issue as it can be used in applications such as on a stretcher, surface and wall in ground and air ambulances.
Technimount's innovative mounting solutions are certified to comply with the highest norms of the industry, such as SAE J3043. Engineered for safety, the Bracket Pro Serie® for Ventilators ensures that medical devices remain secure during transport in the case of a sudden directional change or accident – avoiding possible injuries to patients and crew. In addition, reducing risks of damage, causing costly repairs or complete replacement of the medical equipment.
"The launch of the Bracket Pro Serie® for Ventilators is a continuation of our well-known, complete offering of flexible mounting systems for defibrillators, monitors and other medical devices," said Carl Bouchard, Founder and CEO of Technimount System. "We're proud to launch a range of solutions that respond to the specific needs of the CCT services, providing enhanced flexibility and safety. We will continue working towards developing our offering to cover a wider range of specialized devices".
About Technimount System
Technimount engineers mounting solutions that provide medical teams with a complete system for portable medical equipment management during patient transport. Technimount's unparalleled universal mounting systems can fit multiple brands, models, and applications of portable medical devices for hospitals, EMS, and military environments.

Request more info from Technimount System
Thank You!