PRESS RELEASE
Technimount System is launching the new Bracket Pro Serie 35 - Heavy Duty for the LIFEPAK® 15 Monitor/Defibrillator
---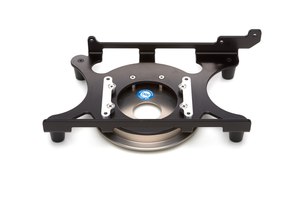 Technimount System is proud to announce the launch of a new product: The Bracket Pro Serie™ 35 – Heavy Duty (BP 35 HD). This mount is designed to secure the LIFEPAK®1 15 Monitor/Defibrillator from Stryker (formerly known as Physio Control).
The BP 35 HD was specifically designed and developed to answer the market's needs for a more robust solution for extreme use in tougher emergency environments. The BP 35 HD is a lightweight product similar to the standard BP 35 version. The heavy-duty version is thicker and stronger with an anodized finish of 50 microns. It resists to flexion or bending and to intensive use of medical devices.
The heavy-duty version adds another option to our existing product line for the LIFEPAK® 15. It brings new possibilities for the military market and other harsh environments. This new product is compatible with the Technimount Standard Base which allows a 360° rotation of the medical device while securely locked.
When it comes to ambulance transport, patient and crew safety is the main concern. Having a rugged and certified mounting system can help avoid costly repairs, complete replacement of equipment and possible injuries to patients and crew. All Bracket Pro Serie products are SAE J3043 certified mounting systems for impact resistance within ambulance or emergency vehicles.
The standard Bracket Pro Serie 35 remains available within Technimount's product portfolio.
About Technimount System
Technimount designs and engineers mounting solutions for medical equipment including defibrillators, ventilators, and pumps or other devices, for hospital, EMS, and military environments. Technimount System is the only manufacturer to have a universal mounting system that can fit on multiple brands, models, and applications of portable medical equipment for ambulances, stretchers, and hospital environments.

Request more info from Technimount E.M.S.
Thank You!