MagneGrip completes Exhaust Removal System installation in St. Louis
CINCINNATI — MagneGrip Group recently completed a large-scale urban program in St. Louis, Missouri for the St. Louis Fire Department. Comprised of 30 engine houses -- each with unique specifications -- the project encompassed installation of Exhaust Removal Systems within a contract stipulated prompt and efficient timeframe.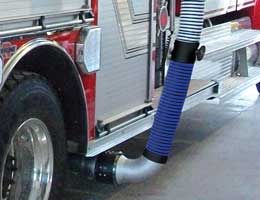 The new MagneGrip Vehicle Exhaust Removal System replaced a high maintenance pneumatic exhaust removal system that was not performing to the level required by the St. Louis Fire Department. A combination of Sliding Balancer Track (SBT) Systems and Straight Suction Rail (SSR) Systems were installed in each engine house. A high-efficiency fan vehicle activation system provided each location with ease of use and enhanced performance. A monitoring and notification system was also installed in each building.
The majority of the 30 St. Louis Fire Department engine houses were built before 1950 and due to the age of each structure provided a particular set of challenges. Ceiling heights are two stories and some cases, as high as three to four stories. For installation of exhaust fans in the ceilings of these tall buildings, special rigging and safety measures were put in place.
Also unique to the old buildings were the tight spaces. At the time the buildings were built fire apparatus vehicles were much smaller. To accommodate the narrow areas, as well as special door and apparatus positioning, MagneGrip installed curved tracks.
Other services provided during the project included demolition and removal of previous exhaust removal system components as well as project management and supervision.
MagneGrip had the lowest bid and was required to meet the MBE/WBE participation rate of 25%. The final MBE/WBE participation rate was almost 40%. To fund the exhaust removal project, St. Louis secured a FEMA matching grant for Sustainability and Repair of existing systems.
About MagneGrip Group
Founded in 1993, MagneGrip Group is the #1-rated solution to the health threat of diesel exhaust emissions in firehouses and vehicle maintenance facilities. MagneGrip systems are professionally installed by a nationwide team of service technicians to provide 100% guaranteed satisfaction.
As an American manufacturer, MagneGrip Group is the only company that produces both hose-type exhaust removal systems and air purification systems. This combination of systems provides the most complete protection for fire personnel and it best fits the intent of FEMA and NFPA recommendations. MagneGrip's 1,000° F rated hose is now standard equipment.
MagneGrip Group is ISO 9001:2008 Certified for manufacturing and customer service.
For information, call 800-875-5440 or visit www.magnegrip.com.