ZOLL, Ohio healthcare system make portal that lets providers track patients' progress
The data may also be used to inform EMS reviews and training
---
By Leila Merrill
SHAKER HEIGHTS, Ohio —University Hospitals, an Ohio healthcare system, partnered with ZOLL® Data Systems to establish a unique patient e-charting workflow that lets EMS providers track the progress and diagnosis or treatment updates of patients they have transported to University Hospitals, according to a news release.
"In the past, EMS would make a request with the designated hospital where the patient was taken, and it could take days or weeks to receive feedback. The ZOLL Care Exchange system takes out the middleman and allows agencies with access to go to the portal and see patient information in real time," said Mike Monahan, one of the two EMS coordinators responsible for instituting the new system.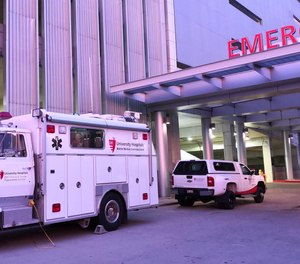 In addition, "the ZOLL Care Exchange uses patient demographics collected in the prehospital setting, compares them to hospital medical records, and matches them. The results provide feedback to our EMS agencies, which can enhance training, treatment, and overall process," he said.
In addition, the new system proves to be more efficient, according to EMS Coordinator Jon Cameron. 
"This also provides our EMS Coordinators and Medical Directors a singular platform to speed their review process, assuring that Quality Assurance is still done by a human but is now done more efficiently," he said.
The software data bridge has been rolled out to all UH hospitals and about 180 prehospital agencies in Ohio.