5 creative uses for backboards
We asked EMS1 Facebook fans for their ideas for other uses of backboards
Updated May 13, 2016
Widespread adoption of selective spinal immobilization protocols and the availability of other moving and extrication products has reduced the need for and frequency of use for backboards. We asked EMS1 Facebook fans for their creative ideas to reuse or repurpose backboards. Their ideas fell into these categories:
Remember the evidence might make the dumpster the next stop for unused backboards.
1. Display EMS collectibles
For the collector of EMS memorabilia, toy and LEGO ambulances, or antique medical equipment, the backboard collectibles shelf is the perfect set of shelves. It can also be used to display certificates and awards.
Submitted by Alicia Marie Keck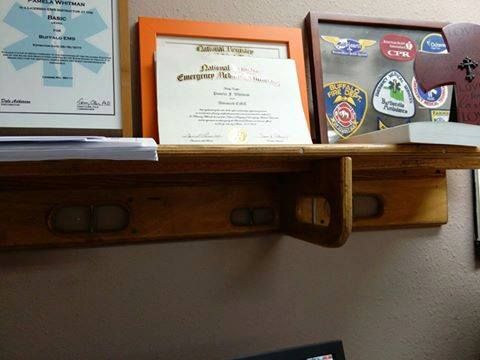 Submitted by Pamela Frazier
Submitted by Andrew Pristach
2. Closet organizer
Consider using a backboard in your station's locker/changing room as a shelf and uniform hanger.
Submitted by FiveWilky Slao
3. Living room coffee table
Do you need a place to put your feet up in the day room after a call or in your home living room after a long day on duty? If yes, add some legs to a backboard for a coffee table that is about the same length as a couch or loveseat.
Submitted by Tricia Brown
4. Shop bench, standing desk or computer desk
Use a longer set of legs to convert the backboard from a coffee table into a shop bench, computer desk or standing desk. The handholds are optimally spaced and sized for resting tools, placing clamps, or running cords to outlets.
Submitted by Tricia Brown
Submitted by Larry Crouse
Submitted by Nic Hahn
5. Rack for pool cues
It doesn't take much to convert a backboard into the perfect wall rack for pool cues.
Submitted by Bill Briggs
6. Search and rescue K-9 Training
The Louisana Task Force 1 Canine Team uses backboards to train dogs to walk on unfamiliar and unstable surfaces.
What are your creative ideas?
Certainly we can do better than simply tossing our backboards into a dumpster. What other ideas do you have? We have seen sliding and sledding vidoes, and heard rumors of a backboard used as a wakeboard.
Spinal immobilization evidence
If your service is still routinely immobilizing patients based on the mechanism of injury rather than exam findings Michael Fritz provided this visual reminder on the current evidence for spinal immobilization.
Image from @FLTDOC1