Jay Leno raises $50K for EMS organization, donates ambucycle
The ambucycle will help cut down emergency response time throughout the country to under three minutes
---
NEW YORK — At a special concert fundraiser for Israel's largest volunteer EMS service held at the Jazz at Lincoln Center in New York on Sunday, United Hatzalah was honored by Jay Leno, who performed a long comedy set and offered on the spot to donate a $36,000 fully equipped ambucycle for the EMS organization to use to save lives in Israel.
The former Tonight Show host called Eli Beer, Founder and President of United Hatzalah, to the stage after his act to tell him "What you guys are doing is so special I am so proud to be here and be part of it. I have 117 motorcycles in my collection but none of my motorcycles save lives. I want to donate an ambucycle with all of the trappings." The ambucycle, once it is outfitted and adorned with Jay Leno's name, will join the fleet ambucylces of over 400 used by the volunteer EMS organization to continue to provide free treatment to anyone who needs while cutting down emergency response time throughout the country to under three minutes.
Leno, who traveled from Los Angeles specially for the concert, also challenged the audience to join him in supporting lifesaving in Israel by donating on the spot to the organization and offering that anyone who donated $1,000 would receive a free tour of his garage to see his large car and motorcycle collection. Leno's rare car and motorcycle collection is considered to be one of the finest in the world. Thanks to Leno, an additional $50,000 was raised on the spot to support saving lives in Israel.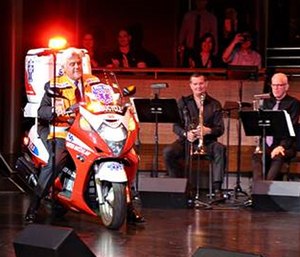 The concert took place at the Jazz at Lincoln Center in midtown Manhattan and featured performances by musical entertainer Lipa Schmeltzer and the Rock band 8th Day. The event also featured Neginah Orchestra was hosted by Jewish Radio personality Nachum Segal and produced by Suki and Ding. The event was made possible by the sponsorship of many amazing supporters, among them: Jay and Jeanie Schottenstein together with Bob and Amy Book, Mark and Barbara Silber and the Carey and Tammy Wolchok family. The venue, which can seat close to 1,300 people, was a complete sell-out.
Leno got a first hand look at the ambucycles of United Hatzalah as he made his grand entrance onto the stage riding one of the organization's ambucycles and wearing a EMT vest identifying him as a supporter of the organization. After receiving a miniature silver ambulance from United Hatzalah to add to his collection, Leno told the crowd "See you next year in Jerusalem." This statement both invoked a famous Jewish refrain and hinted at Leno continuing his yearly visits to host big events in Israel.     
In 2014 and 2015, Leno hosted the Genesis Prize award ceremony in Israel, following which he was attacked on social media for his support of the country. Leno brushed off the attacks and kept coming back to support the Jewish state in spite of the chastisement.
"People want a good time and people want to do good deeds," said Founder and President of United Hatzalah Eli Beer. "So for those who cannot physically come to Israel, like Leno did, but still want to help, the concert was a golden opportunity to come out and support the country while performing one of the greatest gifts of loving kindness that there is, saving lives. What Jay Leno, Lipa, 8th Day and the audience did here tonight is an act of charity that keeps on giving for generations and generations to come."