Patient tracking system works from triage to treatment
The software is a data storage and tracking powerhouse, equally useful whether you're working a single-car accident or a mass-casualty crisis
---
Global Emergency Resources' asset tracking and visualization system had been in use by hospitals and public health agencies for more than a year when one customer asked if they could put the system in the hands of users in a makeshift clinic, by providing a mobile application running on handheld computers.
The New England Center for Emergency Preparedness at Dartmouth College wanted to use GER's robust HC Standard software to track and record patient data during a mass inoculation exercise in fall 2006, without requiring them to use desktop or laptop PCs.
Shortly after, The Maryland Institute of Emergency Medical Services Systems (MIEMSS) asked GER to refine the system, so it could be used by first responders across the state and around the National Capital Region to send data ahead to hospitals before ambulances arrive.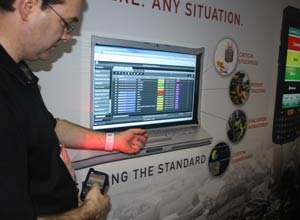 After two more years of development and testing, GER released the HC Patient Tracking System (PTS) in 2009. The software is a data storage and tracking powerhouse, equally useful whether you're working a single-car accident or a mass-casualty crisis.
The PTS allows you to quickly and easily gather patient information on a Motorola handheld device. Fully customizable so that administrators can add an infinite number of additional data fields to the standard triage and tracking fields that are included 'out-of-the-box,' the application running on the device regularly syncs with the system's central server, sharing patient vital signs — along with GPS coordinates, photos and audio and video recordings — with receiving health care systems in near real-time.
Mark Goodell, Vice President of Sales, Service and Marketing at GER, says the obvious benefit of their remote system is the robust amount of information medics can provide doctors while they're still on scene. Then, "they're able to provide comprehensive care right when the patient gets to the facility," he said.
The PTS works well for both single patient accidents — when you may have more time to collect a wealth of patient information — and mass casualty scenarios where you may only have time to tag patients and assign a triage level.
"The information that medics collect is useful in every single medical case," Goodell said. "But more and more people are interested in making daily use of the mass-casualty triage process so medics are more familiar with it in preparation for a large-scale event."
Global Emergency Resources is a software solution developer and integrator for the health care industry. You can find them on the Web at www.ger911.com.