Israel's national EMS agency adds a fourth pillar of response
MDA's LifeGuardian program is based on a societal tradition of volunteerism which transcends religion and ethnic divides
---
By Eli Jaffe, Refael Strugo and Oren Blushtein
EMS organizations strive to shorten response times, especially to patients whose life is at an immanent risk. Advanced EMS systems implement a three-tier response system, based on dispatcher guided bystanders, first responders and BLS/ALS ambulances. Magen David Adom in Israel has established a fourth tier in order to significantly shorten response times.
Magen David Adom is the Israeli national EMS organization and national Red Cross society. With over 1,000 lifesaving vehicles including ambulances, mobile intensive care units, motorbikes, two helicopters, nearly 1,800 paid employees and more than 13,000 trained volunteers, the organization is well poised to provide a rapid first response whenever and wherever needed.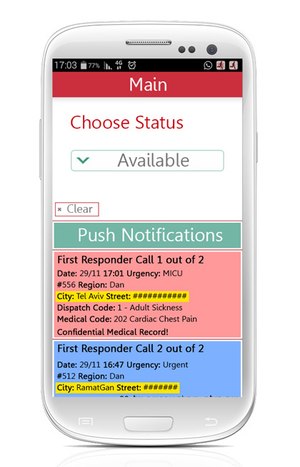 The organization is expected by the public to provide professional life-saving response all over the country, in peace as well as in conflict situations.
The entire apparatus of MDA is centered in a sophisticated national control center which coordinates and directs emergency response on a national level with close cooperation with all of the emergency services, including the Israeli Defense Forces. Regional control centers are interspersed throughout the country and in time of conflict mobile Command and Control vehicles can be deployed where necessary.
MDA provides a fast, quality and expert service to every sick and injured individual in need across the country. Over the years, MDA has improved its ability to react promptly and efficiently by improving on-site arrival times, upgrading the level of treatment given and constantly upgrading the equipment utilized in the field.
MDA's response pillars
First Pillar: National dispatch center
In Israel, there is no unified emergency number like the American 911 or the European 112. The public at large is familiar with three emergency numbers: Police – 100, Fire Department – 102 and MDA's emergency number 101 - calls are received at the EMS dispatch centers throughout the country by professional dispatchers (EMTs/paramedics) who provide immediate lifesaving instructions. Emergency calls are answered within 3.8 seconds on average. This is especially relevant for resuscitation and loss of consciousness situations. Of all calls where the dispatcher determined that CPR was indicated, in over 90 percent of them, the dispatcher instructed the caller to perform CPR.
Second Pillar: First responders
A strong network of 3,500 trained volunteers (EMT-D and Paramedics) first responders equipped with resuscitation and first aid equipment on a national scale. Located by MDA's Command and Control Systems via GPS, in close proximity to the scene and able to maintain a five minute response time, these responders utilize MDA motorbikes or their own personal transportation. MDA's first responders respond to 30 percent of calls where ALS treatment is indicated. Almost all CPR calls the first responders are found on scene before an ambulance arrives.
Third Pillar: Ambulance response
The actual BLS/ALS Ambulances arrive on the scene with an average response time of 8.3 minutes and are able to provide more in-depth treatment and transport to the hospital.
These three pillars of response have been the backbone of MDA's initial response until the recent addition of a revolutionary fourth pillar.
Fourth PIillar: Crowdsource bystander response
MDA has implemented a crowdsourcing program for situations where life is at an imminent threat based on professional bystanders, people with medical training: physicians (6 percent), nurses (8 percent), paramedics (4 percent) , EMTs (44 percent) and first aid providers (44 percent). These trained rescuers — Life Guardians — have become part of a nationwide first response force which aims to lower the response time to calls where CPR is needed. The success of this new concept is a function of a tradition of volunteerism in all facets of Israeli society and it transcends religion and ethnic divides.
MDA hopes tens of thousands of medical professionals join the program. A national campaign has been launched including the use of television, radio and billboards along the roadways as well as information spread in hospitals and clinics to create awareness for the project and encourage registration. More than 11,500 people have already registered as Life Guardians.
Registration is possible through a dedicated page on MDA's website Life.MDAIS.ORG. After confirming basic eligibility, including professional certification and smartphone ownership, registered new Life Guardians download the "MDA Crews" app on their personal smartphone devices. The app accesses the volunteers' location through their phone's GPS function and sends it to MDA's command and control software. Whenever the system tracks them near a medical emergency call where life is at an immanent risk, the app activates them to respond.
The Life Guardians have the potential of significantly reducing response times of medical professionals and will no doubt be translated into more lives saved. The medical community has displayed great interest in the initiative.
The vision is exceptional and worthy and ascribes to the Talmudic principle that Magen David Adom based its philosophy on, "He who saves a single life, as if he saved an entire world."
About the authors
Eli Jaffe, PhD, EMT-P, is the Director of Training, PR, Volunteer Activities, Marketing and International Relations Division, of the Israeli national EMS organization – Magen David Adom, He has published books and articles and is an authority in the fields of emergency medicine and medical Management and is also one of the leading researchers in Israel in the field of volunteers and the prevention of PTSD. Dr. Jaffe is a well-known lecturer in the Israeli universities. Email: EliY@mda.org.il
Refael Strugo, MD is the medical director of Magen David Adom in Israel, he joined MDA in January 2011 as the headmaster of the Paramedic School. He received his MD degree from the Hebrew University of Jerusalem in 1991. By the year 1997 he completed his internship in internal medicine at Sheba medical center' and by the year 2002 he was already a specialist in emergency medicine. Up to 2007, he worked as a senior attending physician at the E.R. Sheba medical center, alongside his other duty as a family physician in Maccabi healthcare services. From 2007 up to 2010, Dr. Strugo served as the chief physician in the ministry of defence. Email: Dr.Refael_Strugo@mda.org.il
Oren Blustein, Adv., LL.B., L.L.M, M.A, B.A., MHA is the deputy director of Magen David Adom in Israel and the manager of the IT array. Email: OrenB@mda.org.il