PRESS RELEASE
Wheeled Coach® and Road Rescue® Emergency Vehicle Brands invest in new paint system
---
WINTER PARK, Fla. — Wheeled Coach® and Road Rescue®, both brands of REV Ambulance Group Orlando, Inc., a subsidiary of REV Group, Inc., and premier manufacturers of emergency vehicles for municipal and commercial EMS providers, have invested in a new paint system. The plural component system precisely controls the mixing and application of the paint products for even higher quality and consistency.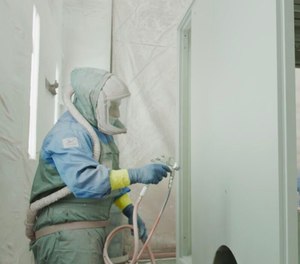 The new paint system was developed by industry leader, Graco®, and utilizes its ProMix PD2K® system, which offers 100% Positive Displacement Technology for accurate mix ratios and consistent performance.  It was installed at the manufacturing facility in Winter Park, Florida, the home of Wheeled Coach and Road Rescue ambulances. The system monitors the ratio of protective coatings and paint. It also controls the application via air pressure and fluid rate regulation of the materials onto the ambulances. In addition to a more supreme final product, the benefits also include waste and hazardous materials reduction because of the precision of the system.
"The investment in the new paint system is part of a broader, ongoing program to further enhance our Orlando facilities, equipment, processes, and customer experiences", said Erik Stoor, Vice President and General Manager, of REV Ambulance Group Orlando, Inc. "We are stewards of the iconic Wheeled Coach and Road Rescue brands and focused on the long-term success of our customers and dealers."
For more information, visit https://www.wheeledcoach.com and https://roadrescue.com
###
About REV Ambulance Group Orlando, Inc.
Wheeled Coach® is a brand of REV Ambulance Group Orlando, Inc., a subsidiary of REV Group, Inc. and is a premier manufacturer of Type I, Type II, Type III and Medium-Duty ambulances for municipal and commercial emergency departments. Built to perform under the most demanding conditions, Wheeled Coach ambulances deliver mission-critical durability. Wheeled Coach leads the industry with more firsts than any other ambulance manufacturer, including being the first to conduct IHS Side Impact Criteria Crash and Roll-Over Testing. It manufactures a full line of ambulances at its production facility in Winter Park, Florida. Since 1975, Wheeled Coach has been Trusted by the Toughest®.
Road Rescue® is a brand of REV Ambulance Group Orlando, Inc., a subsidiary of REV Group, Inc. and is a premier manufacturer of premium highly-customized ambulances which serve fire departments, health care systems and hospitals across North America.
About REV Group, Inc.
REV Group® companies are leading designers and manufacturers of specialty vehicles and related aftermarket parts and services, which serve a diversified customer base, primarily in the United States, through three segments: Fire & Emergency, Commercial, and Recreation. They provide customized vehicle solutions for applications, including essential needs for public services (ambulances, fire apparatus, school buses, and transit buses), commercial infrastructure (terminal trucks and industrial sweepers), and consumer leisure (recreational vehicles). REV Group's diverse portfolio is made up of well-established principal vehicle brands, including many of the most recognizable names within their industry. Several of REV Group's brands pioneered their specialty vehicle product categories and date back more than 50 years. REV Group trades on the NYSE under the symbol REVG. Investors-REVG

Request more info from REV Group
Thank You!