PRESS RELEASE
Draeger Safety Announces the LAR V Mod 2B Closed-Circuit Oxygen Rebreather
---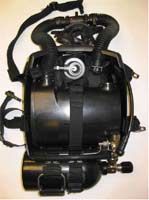 For two decades the LAR V closed-circuit oxygen rebreather from Draeger has been the mainstay for SPECOPS combat diving missions. Based on the original LAR V, the Mod 2B offers updated features to extend operating durations by means of a 1.9 liter oxygen cylidner, and insulated scrubber canister. Several enhancements have been added, including a flexible gauge line option. Order it installed, or upgrade at a later date. The new flex gauge even includes its own chemical-light holder.
A camlock-style cylinder harness is now standard, on an updated urethane equipment housing. Internal ribs help protect the pressure lines from abrasion.
Draeger Safety Inc provides a full range of spares, and repair equipment for the Mod 2B UBA, as well as maintenance and operator training packages.
Key Features:
Low-maintenance reducer
1.9 liter supply cylinder
Urethane scrubber canister with removeable insulation
Lower-resistance one-way valves
Quick-release neck and waist harnesses
Camlock-style cylinder harness
Urethane housing with internal ribs
Available with flexible gauge kit.
For more information, please call
412-787-8383
or visit
www.draeger.com