Redesigned traction device unveiled at EMS Today
Emergency Products and Research sought military feedback when it came to the new design of its ITD
---
When the research team at Emergency Products and Research began looking at a redesign of their traction device, they turned to the military.
Their device had been on the market for 25 years, and they had a wealth of feedback from military users who outlined several areas in which they thought it could be improved, according to EP&R Vice President George Greco.
Military users, unsurprisingly, put any gear though the toughest of paces — and demand the best.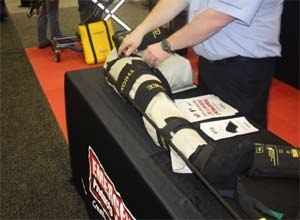 First and foremost, the original traction anchor was made of material that didn't hold up as well as it could in extreme temperatures, some users said.
To address this, the new device is made from polymer, resin, and fiberglass that will expand and contract with temperature changes, making it as useful for soldiers enduring the desert heat, as medics working through bitter northeastern US winters.
Another problem with the old model was comfort. "We had a guy who told us he had it on for 45 minutes and it got very painful," Greco said after the Improved Traction Device's (ITD) unveiling at EMS Today. To deal with the discomfort, they added memory foam padding to the groin strap and ankle hitch.
Military users also complained that they had to move their patients' legs when applying the ankle hitch — an excruciating process if the leg is broken or peppered with shrapnel. EP&R dealt with this by making the ankle strap removable so users can put it on the leg, re-clip it, and then pull traction.
One of the biggest changes to the new device is the carbon fiber pole, which replaced the old aluminum design. Carbon fiber is a major improvement, Greco said, because it doesn't transfer heat and cold to the patient (as aluminum does), and it can be worn inside an MRI.
"With the metal pole, you'd have to remove the device to put the patient in an MRI machine — a difficult process for both medics and patients," Greco explained. "With carbon fiber you don't have that problem."
Even the carrying case for the ITD has been upgraded. The old bag was essentially a nylon stuff sack, and it was nearly impossible to properly fit everything back into the bag after the device had been taken. The new bag is a clamshell molle design, making it easy to stow the disassembled parts.
"There's been an excellent response," Greco said of the ITD. "Everyone recognized right away that it's a military item, but the medics on the street need those changes, too."
Emergency Products and Research is a manufacturer of industry standard spine boards, immobilization devices and extrication products. To learn more about the Improved Traction Device, visit www.epandr.com/products/traction/itd.php.