Ferno's PowerTraxx Wins EMS World Innovation Award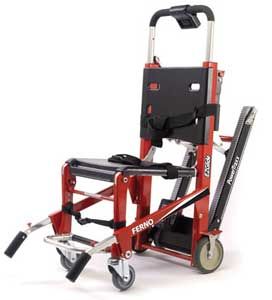 WILMINGTON, Ohio — Ferno is proud to announce that its EZ Glide® with PowerTraxx™ was chosen as an Innovation Award recipient from EMS World. Competition was steep at EMS Expo in New Orleans but Ferno proved again why they are industry leaders. The EZ Glide® with PowerTraxx™ was designed to meet the needs of both the medical service and disaster response markets as a stair chair, evacuation chair and transport chair. This is the first chair of its kind in the industry.
The EZ Glide® with PowerTraxx™ comes equipped with powered tracks that deploy easily to eliminate the need for lifting or carrying while ascending or descending stairs. The wireless motor controls work in any handle position. Each chair comes with a rechargeable Milwaukee 28 volt lithium ion battery. The battery is not only easy to use and charge, but also commercially available. The paddle-style controls are easy to use whether powering up or down the stairs.
The EZ Glide® with PowerTraxx™ leads the industry with its 500 lb. weight capacity and large seating area. The 512 square inches of patient seating surface, plus the extending footrest, provide a more comfortable experience for larger patients while the innovative features work with the caregivers to ensure a safer transport for all.
The EZ Glide® offers multiple accessories such as padded headrest, rear lift handles, and an IV Pole with two raised positions that mounts directly into the chair frame. The EZ Glide® is also still available with the standard track system (Model 59T). For those who already own the original Ferno EZ Glide® a retro-fit kit is available.
For more information about the EZ Glide® with PowerTraxx™, call 877.733.0911 or visit www.ferno.com/powertraxx.
Ferno is recognized as the global leader in the manufacturing and distribution of emergency patient-handling equipment and mortuary products and exports to more than 75 countries.