Top EMS Game Changers – #8: Specialty centers
Hospitals with enhanced capabilities to treat trauma, cardiac care, pediatrics, burns and more are providing specialized care and changing transport algorithms
---

Specialty centers – hospitals with enhanced capabilities to treat specific presenting problems – are far more numerous today than when I transported my first patient on Long Island, New York in 1992.
Back then, there were only a few types of emergent patients that we didn't automatically bring to the closest hospital: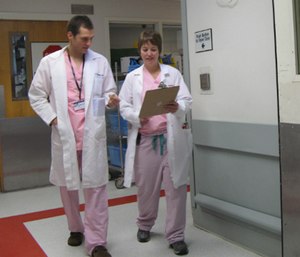 Major trauma
Behavioral disorders dangerous to patients or others
Maternity, if the closest hospital was the one in our system with no more labor-and-delivery expertise than we had on our ambulances.
Approximately half of our calls were for trauma, with less than 20 percent of them requiring a fly-or-drive decision: fly the patient by helicopter to one of two equidistant regional trauma centers 10 minutes by air, or drive to the closest community hospital – usually less than 10 minutes by ground. The algorithm guiding that decision was based on the patient's condition and history, the type and extent of trauma and the difference in time between transport to a trauma center and the closest hospital.
You didn't have to arrive at the trauma center sooner, nor did you have to get there by medevac; you were supposed to divert to a trauma center if the trip wouldn't take more than, say, 10 extra minutes, regardless of the mode of transport. The logic was that trauma centers had enough of an advantage over other hospitals to make a small delay in care worthwhile.
Our transport algorithm almost always dictated driving to the closest hospital. When different levels of trauma centers became popular in the mid-1990s and our closest community hospital became a Level II trauma center, there was even less reason to go anywhere else, although sub-specialties like burns and barotrauma were still handled by only one or two facilities in the region.
Special cases not involving trauma
By the time I left Long Island in 2006, one of our Level I trauma centers was also a STEMI center, an accreditation developed by the American Heart Association and the Society of Cardiovascular Patient Care. STEMI centers have to meet PCI (percutaneous coronary intervention) criteria regarding the hospital's expertise, equipment, readiness, continuing education and quality improvement.
As 12-lead EKGs became standard-of-care in the field, EMS crews were able to give advance notice of probable myocardial infarctions to cath-lab equipped STEMI centers. The results have been extraordinary in my former system, where more than 30 minutes have been trimmed off average door-to-balloon times.
As of the AHA's 2010 ACLS guidelines, stroke centers paralleled STEMI centers as everyday factors in destination decisions. The AHA and Joint Commission (formerly Joint Commission in Accreditation of Healthcare Organizations, or JCAHO) had established stroke-center criteria for readiness, in-house expertise, customized care, data collection and quality improvement. The principal goal was to reach a stroke center within three hours of onset of patients' signs and symptoms.
Today, pediatrics and ECMO (extracorporeal membrane oxygenation) have been added to the roster of specialty centers. ECMO, a state-of-the-art substitute for cardiopulmonary bypass, may lead to improved outcomes for post-cardiac-arrest patients, although the AHA reported in 2015 that there is insufficient evidence to recommend routine use of ECMO after ROSC.
The impact on EMS
Specialization is nothing new to EMS. Supplementary paramedic certifications associated with critical care, aviation, wilderness medicine, and community paramedicine are well-established addendums to prehospital providers' résumés. When hospitals become specialty centers, they enhance their own "résumés."
To what extent do specialty centers affect EMS personnel? Mostly, we need to be more flexible about our destination decisions when we operate in regions with dedicated facilities. Depending on where you work, automatically transporting emergent patients to the closest hospital may not make as much sense as it used to.
Also, pre-arrival notifications become more important to ensure specialized resources are available to patients on or close to arrival. Be aware of the rules for alerting specialty centers in your region.
To see an approximation of where EMS is at with specialty centers, I examined the prehospital protocols for the two EMS organizations I most recently worked in. Both systems encompass large, populous areas generating over 100,000 calls per year. Here's a breakdown of their SOPs covering specialty centers: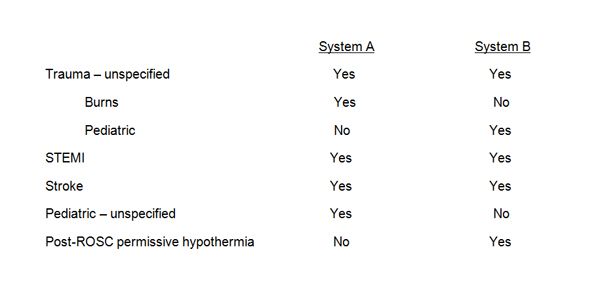 It seems the establishment of specialty centers is still a region-dependent work in progress. It wouldn't be surprising to see sepsis and geriatrics centers, too, within the next few years. EMS providers in hospital-rich systems will have to deal with more and more menus of if-then options to help make destination decisions. Let's hope "the closest ER" is still somewhere on those lists.