PRESS RELEASE
MedixSafe to exhibit at EMS World Expo Booth #1363
---
Visit us at EMS World Expo Booth #1363 to see the latest in narcotics and key security!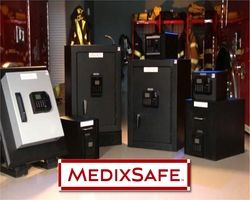 MedixSafe manufactures high-security electronically-controlled narcotics, key and asset protection cabinets. Our multiple solutions utilize the most current access control technology, placing us a cut above the competition. We offer dual or triple user authentication, biometrics and inventory tracking with an audit trail of every access. Our TCP/IP or Wi-Fi equipped MedixSafe units allow you to add, delete and modify users and download event logs from an administrator's desk or remotely.
We have been providing peace of mind in the security industry for over 30 years. Our unparalleled service, competitive prices, and overall value are why our loyal customers won't go anywhere else. We look forward to serving you!
About MedixSafe 
A leader in the access control cabinet market, MedixSafe began designing and manufacturing narcotics control cabinets in 2008. The first narcotics control cabinets were designed for the EMS market to be used in ambulances. Based on customer requests, MedixSafe designed and built different sized cabinets to meet their varying needs. MedixSafe caters to the key control needs of doctors, dentists, veterinarians, university research departments and schools of medicine, hospitals, wildlife management services, the U.S. Army, U.S. Navy, helicopter companies, gold mines, animal hospitals, Indian reservations, pharmacies, and more. For more information, visit http://medixsafe.com/

Request more info from MedixSafe
Thank You!