How can a mechanical CPR device fit into your EMS service?
Educate partners and update CPR protocols while considering how to deploy a mechanical CPR device in the field
---
Two minutes of continuous chest compressions can get quite tiring. Now, rotate. Another two minutes goes by, and you're already rotating back into compression mode, with only a two-minute rest, unless your agency is fortunate to respond with enough first responders or firefighters to supplement this laborious task.
The introduction of mechanical compression devices has changed the EMS industry significantly. In fact, they're probably one of biggest game-changing devices of our past couple of decades. It is undeniable that their ability to replace one, two or even three individuals during a cardiac arrest resuscitation makes them worth every cent of their expense.
So, now that your agency has one (or is considering purchasing one) or more, let's break down their integration into our industry and your system.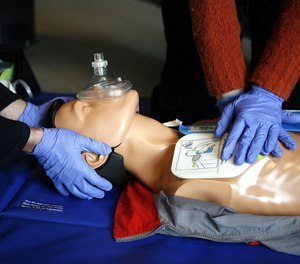 How to implement mechanical CPR into your system
Regardless of which apparatus you store your mechanical compression (CPR) device on, it's important to look at this purchase – and utilization – as a system-wide affecting one.
First, within your agency alone, apparatus location, geographic/district location, internal training practices and follow-up/quality assurance practices will all be impacted by this integration. Each resuscitation should be thoroughly evaluated to review its protocol relevance, proper deployment and overall documentation.
Externally, it's important to make sure that your industry partners are aware of when and how to utilize the device. Local fire departments, first responder partners and hospital emergency department staff should all be aware of not only the device's existence within the system, but also how to function while the device is in operation.
Even from a public education standpoint, this is a device that you should be proud of. Whether you gained funding through taxes, revenues or private donations, be sure to include it as a part of your public education program and station tours. Post a blog about it on your agency's website. Include information about it in a tri-fold pamphlet that you provide to your patients outlining how your agency operates.
Updating CPR protocol
Once you get the hang of it, deployment of your mechanical compression device makes your team look like a fully-functioning NASCAR pit crew.
Direct communications, leadership and crew resource management are all essential components within a cardiac arrest resuscitation, and there's no exception during the deployment of your mechanical compression device.
"On three, let's pull the patient forward and deploy the back plate."
Then, manual compressions resume while the compression mechanism is secured, positioned and made ready to press start.
Cardiac arrest is the obvious indication for utilizing this device, but when else can it be deployed, or pre-indicated? How about for your patient that is hypotensive, bradycardic and being externally paced? Should you deploy your mechanical compression device then (but not press start)? If you're suspecting that cardiac arrest is impending, then get as much done before it occurs, so that you're better prepared and positioned to resuscitate when it happens.
Mechanical CPR transition and documentation
Manual compressions versus mechanical compressions; there's a difference.
During any cardiac arrest resuscitation, document is a key component of the case. More than one person will certainly be involved in the review of your ePCR chart, so the information you provide will greatly aid in painting the picture of what your patient's post-resuscitation, or post-mortem, care or results will look like.
Whether you use a SOAP, CHART or DRAATT format to craft your narrative, sticking with chronological events is logical during cardiac arrest. It simply provides the most clarity, details and step-by-step actions during the case.
Documenting pre-arrival bystander manual compressions, your continuation of the manual compressions, and the eventual transition to mechanical compressions (via the compression device) should all be noted both in your flow chart section of the report, as well as your narrative. Your flow chart should outline approximate or actual times, while your narrative should tell the story behind the events and your actions.