Popping the chest: Evolution in needle decompression
Medics have an increasing array of tools to choose from to treat a tension pneumothorax
---
Updated April 20, 2016
A tension pneumothorax is an immediately life threatening injury. In the hospital setting, placing a chest tube is the definitive treatment. It requires a scalpel and is a surgical procedure.
In the field that is not possible, so EMS providers have been taught to use a needle instead. This approach has some limitations. You need a longer than typical IV needle to reach the plural space on a large patient. The catheter sheaths on an IV needle are soft because they were designed to ride in a soft vein. They are prone to kinking and collapsing within the chest wall musculature.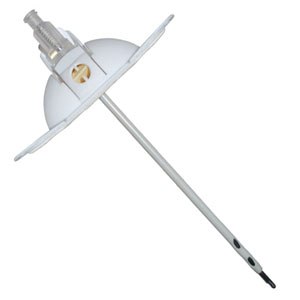 After working in an ER for a few years, I saw many cases when a paramedic had inserted a needle properly and the patient still had big pneumothorax. I got the impression that once you pull the steel needle out of the catheter they often stopped working.
I'm a little ­­­skeptical of the first one-way air valve we were taught to use. The rubber glove trick is when you cut the finger off a latex glove and then stick the IV needle through the fingertip. The open ended "finger" is supposed to work like a real valve. Honestly, I've never tried it.
There have been some better solutions developed over the years to address these challenges. The first I remember was the McSwain Dart. Invented by the living EMS legend Dr. Norman McSwain, it was decades ahead of its time.
The Dart was both longer and larger diameter than an IV needle, but could still be placed percutaneously. It was 5.9" long and 0.21" diameter or 16 French. The catheter was stronger and thicker than an IV catheter, so it effectively resisted collapsing. The catheter had expandable "wings" at the distal tip, which held the catheter firmly in place. I'm pretty sure it came in a kit complete with a one-way valve or stopcock.
Another early adjunct was originally called the Heimlich Valve. Today it is better known as the Cook Chest Drain Valve. This one-way air and fluid valve can be used with either a chest tube or an IV needle. While it was not originally packaged in a complete kit, it serves a need for an easy and fast one-way valve.
In some systems they use a standard stopcock. You open the stopcock to allow air to escape the thorax, and manually close it once airflow stops. While a little less convenient than a purpose built valve, it works fine.
Then along came complete needle decompression kits. Some were homemade, but at least one was manufactured. The Cook Emergency Pneumothorax Set was an early needle decompression kit. On disclosure I helped Cook develop it back in my Parr Emergency days.
The idea was a factory made compact kit with everything you need for the procedure in one place. It has a special wire wrapped plastic catheter that is virtually impossible to collapse. There is Molnar disc in the kit, which helps secure the catheter in place. It also has the Chest Drain Valve and connecting tubing included.
A popular military solution is the ARS for Needle Decompression by North American Rescue. Basically, this is just a 3.25" long 14ga catheter with the flash chamber end cap removed, packaged in a protective tube. For quickly dumping trapped air to atmosphere it's probably the most compact solution.
Around 2009, the Turkel Safety Needle was introduced. This newer specialty needle has a blunt Safety Cannula, housed within the sharp hollow needle. It protects underlying tissue from inadvertent needle penetration.
The Safety Color Change Indicator, located in the needle hub provides direct visualization of the safety cannula position as the needle is inserted. It is Red as the safety cannula is withdrawn into the shaft of the needle during insertion. Then it pops to Green as the safety cannula extends beyond the needle bevel. This lets you know when you have hit free air.
The catheter has multiple side holes for easy drainage or aspiration. The depth markings on the catheter help you continuously assess catheter location. The catheter is much stronger and engineered to resist collapsing after placement. It comes complete with a stock cock valve in an 8.5 fr. X 3.5" size.
The latest thing I've seen for needle decompression is the ThoraQuick Chest Decompression Device. For now it is only sold in Europe, but I expect to see it in the US market very soon. Dr. Ian McNeil, a past Chairman of the British Association for Immediate Care invented it.
ThoraQuik has a large bore 10cm needle to both improve success reaching the pleural space and minimizing the risk of catheter occlusion once it is reached. The internal diameter of the catheter is over 3mm.
ThoraQuick has an integrated one-way air valve already attached. It also has an innovative plastic hub that protects the catheter and helps to quickly secure it with integrated peel and stick adhesive. It also features a non-traumatic internal tip similar in function to the Turkel Needle. It appears to integrate all the best features of many earlier products in one slick kit.
Once all we had were needles and rubber gloves. Now we have a growing range of manufactured choices for effectively treating a tension pneumothorax in the field. Many of these were purpose built for use by EMS providers. The current trend is complete systems or kits with everything you need for the procedure in one place.

Request product info from top EMS Airway Management companies
Thank You!