NJ/NY ambulance bus fleet is America's largest
Eighteen buses ready to transport or evacuate hundreds of patients
---
TRENTON, N.J. — The N.J./N.Y. EMS Task Force fleet of medical ambulance buses is a unique asset capable of moving hundreds of patients from an incident or performing medical facility evacuations.
Eighteen buses, with the capacity to move 300-500 patients from various departments and jurisdictions in N.J. and N.Y., are part of the Regional Medical Ambulance Bus and Medical Evacuation Transportation Unit Fleet.
"Each bus is a valuable asset," said Bil Rosen, Deputy EMS Coordinator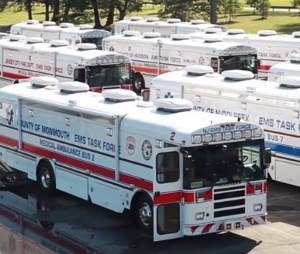 Missions for medical ambulance buses include transporting patients from an incident, mass evacuations of patients from medical facilities, performing rehab at fire standbys, and treating patients at a large-scale incident.