Med Flight helicopter crash kills all 3 in Wis.
---
By Steven Walters, Stacy Forster and Meg Jones
The Milwaukee Journal Sentinel
Copyright 2008 The Milwaukee Journal Sentinel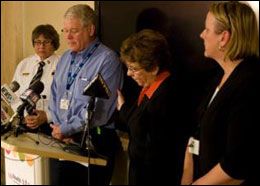 AP Photo/Andy Manis
Debra H. Amesqua, left, chief of the Madison (Wis.) Fire Department, Mark Hanson, director of University of Wisconsin Hospital and Clinics Med Flight Services, Donna Katen-Bahensky, CEO of UW Hospital and Clinics and Margaret Van Bree, right, COO of UW Hospital and Clinics pause during a news conference Sunday, where it was announced that a medical helicopter returning from La Crosse, Wisc., crashed killing a surgeon, a nurse and the pilot.
LA CROSSE, Wisc. — A Med Flight helicopter from the University of Wisconsin Hospital and Clinics in Madison had taken off from La Crosse and turned toward home late Saturday when authorities lost contact with the aircraft less than six minutes into the flight.
Because of rain and fog and the densely wooded, hilly terrain, it took authorities until Sunday morning to find the twisted wreckage of the helicopter and the bodies of the pilot, flight doctor and nurse.
The team had just finished flying a patient from Prairie du Chien to a La Crosse hospital when the helicopter crashed into a bluff between La Crosse and Onalaska. There were no survivors.
Lost in the crash were a doctor credited with changing the method that Madison-area emergency personnel use to handle heart attack victims; a nurse and longtime instructor who taught numerous emergency medical professionals; and a pilot who logged thousands of hours flying life-saving missions:
— Darren Bean, 37, a physician, part-time UW Hospital and Clinics instructor and medical director for the Madison Fire Department.
— Mark Coyne, 53, a full-time emergency medicine instructor for 20 years at Madison Area Technical College who kept a part-time job as a flight nurse for UW Hospital and Clinics to keep his skills current.
— Steve Lipperer, 39, the pilot, who had flown with Med Flight since 2000.
It was the second fatal medical flight crash in Wisconsin in less than a year. Six members of a University of Michigan medical team were killed when their plane plunged into Lake Michigan shortly after takeoff from Mitchell International Airport on June 4. The team had just picked up two donated lungs in Milwaukee for a transplant patient in Michigan.
UW Hospital and Clinics has been using two new American Eurocopter EC135s, leased from Air Methods of Denver, since last year, said Mark Hanson, Med Flight director. Med Flight's second helicopter was grounded Sunday, pending the investigation. Hanson said helicopters from other hospitals would be used if air service was needed.
The Med Flight team left Madison at 8:30 p.m. Saturday and flew to Prairie du Chien to ferry a patient to Gundersen Lutheran hospital in La Crosse. After refueling at the airport, the helicopter took off at 10:34 p.m. with Lipperer using a visual flight plan. Six minutes later, contact was lost with the aircraft, Onalaska Fire Lt. Karl Goldbeck said.
It does not appear the pilot radioed a distress signal or attempted to contact officials before the helicopter crashed.
Authorities began the search around 11 p.m. but could not use aircraft because of fog and rain. Thermal imaging equipment was no help, either, because of the bad weather.
"We searched all the valleys and bluffs on foot," Goldbeck said.
The search was narrowed quickly when U.S. Cellular pinpointed signals from cell phones aboard the helicopter, and the location was consistent with the flight plan. Authorities began contacting neighbors in the Town of Medary, a rural area a few miles east of La Crosse and Onalaska.
"One of the (residents) said they thought they heard a helicopter and it didn't sound right. They didn't hear a crash, just that it didn't sound right," Goldbeck said.
At first light Sunday, a landowner took authorities on a logging trail toward the most likely spot of the crash. Around 8:40 a.m., the wreckage was found in a heavily wooded area.
Goldbeck said the helicopter hit the top of a 500-foot bluff before sliding 200 to 250 yards down the other side. The tail broke off and came to rest apart from the heavily damaged cockpit and fuselage. It did not appear the helicopter ignited. The victims were pronounced dead at the scene.
Authorities don't know why the helicopter crashed. The National Transportation Safety Board is investigating and typically takes as much as a year to issue a report. An autopsy will be performed today on Lipperer's body, said Tim Candahl, La Crosse County chief deputy medical examiner.
All three people aboard the helicopter were an important part of the close-knit emergency medical community in Wisconsin.
"They were very dedicated and perfectionists at what they do," said Adrianne Cisler, director for emergency services at UW Hospital and Clinics. "And they were like friends and family to all of us, so this is a hard loss."
Innovative physician
Bean became a Med Flight physician for UW Hospital and Clinics in 2002 after completing his residency at Carolinas Medical Center in Charlotte, N.C.
In January 2007, he became medical director for the Madison Fire Department and worked quickly to implement a major change in how medical and law enforcement professionals respond to heart attack victims. The change has saved lives and reduced neurological damage, Madison Fire Chief Debra Amesqua said.
Bean got all medical directors of Dane County communities and hospitals, as well as other medical professionals, to treat heart attack victims with cardiocerebral resuscitation, or constant compression on the victim's chest. The new policy replaced the old cardiopulmonary resuscitation response, which included mouth-to-mouth resuscitation, Amesqua said.
Since then, "we have had incredible saves that we thought were not even possible," the fire chief said.
Madison Mayor Dave Cieslewicz said Bean joined him on his most recent cable access show to talk about the new cardiocerebral resuscitation protocol, a method he recently taught to the Madison Common Council.
"He was really excited about that work and was literally in the business of saving lives every day of his life," Cieslewicz said.
Bean also got Madison-area emergency medical workers to practice a new way of cooling the bodies of heart attack patients when their pulses restart. Contracted to work for the Madison Fire Department two days a week, Bean gave it much more time than that, even taking calls when he was vacationing with his family in Door County. He sometimes brought his two young children to Fire Department events.
Bean's wife, Stacey, is an emergency room physician at St. Mary's Hospital in Madison.
"He just had so much enthusiasm and energy," said Fire Department spokeswoman Lori Wirth. "It's a terrible loss."
Experienced flight nurse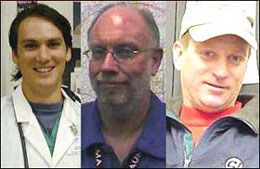 Courtesy photo
From left: Darren Bean, Mark Coyne and Steve Lipperer
Of the three, Coyne had the most experience with the UW Med Flight program; he had served as a Med Flight nurse for two decades and had worked for UW Hospital and Clinics since 1981. He also reviewed emergency medicine materials, texts and new treatment methods with officials statewide.
Flight nurses such as Coyne are "the top of the top" of the nursing profession because they see the worst injuries, said Kathleen Sellnow, dean of the Human and Protective Services program at Madison Area Technical College.
Coyne, who is survived by his wife, Anne, trained paramedics, emergency medical technicians and first responders for two decades. He often landed at an accident scene to find paramedics and EMTs he had trained. Among them is Madison paramedic and Madison Area Technical College instructor Todd Cole, who fondly remembered Coyne as one of his instructors, adding, "I really kind of latched onto him."
A fan of Jimmy Buffett music, sailing and flying, Coyne was known for helping out colleagues such as Madison Area Technical College instructor Terry Thompson, who remembered Coyne's helping hand when her refrigerator died.
Coyne said he knew someone who had an extra refrigerator, showed up with one and hauled her old one to the curb, recalled Thompson, fighting back tears.
'Safety conscious' pilot
Lipperer, who grew up in the Jefferson area, became a pilot for UW Hospital and Clinics in 2000. He was employed by Air Methods, the company that leased the aircraft to the hospital. He was known for his flying skills, and colleagues felt safe getting into an aircraft with him, said Cisler, the hospital's director for emergency services.
"He was very thorough, very safety conscious, just smart at what he does," Cisler said.
Lipperer had worked for Air Methods since 1995 as both a mechanic and pilot, said Aaron Todd, the company's chief executive officer.

They were very dedicated and perfectionists at what they do. And they were like friends and family to all of us, so this is a hard loss.

— Adrianne Cisler
EMS Director, UW Hospital and Clinics
Lipperer was married to Desiree La Charite, an emergency physician at UW Hospital and Clinics.
Firm runs 330 aircraft
Air Methods is the world's largest air ambulance operator, with 330 aircraft flying more than 10,000 hours each month, Todd said in a phone interview before flying from Denver to Madison on Sunday evening. The last fatal crash involving an Air Methods aircraft was in December 2006 in San Bernardino, Calif.
The helicopter that crashed Saturday was a 2007 twin-engine American Eurocopter EC135, a 12-seat aircraft that's equipped as a flying emergency room. UW Hospital retired its previous two helicopters last summer and leased two EC135s, an up-to-date aircraft with more modern avionics and weather radar, according to American Eurocopter's Web site.
Hanson, the Med Flight director, said UW Hospital's helicopters were grounded about a month ago because of a paperwork issue and not because of structural integrity or reliability concerns.
Todd confirmed the grounding of the helicopters, saying it was because of a "discrepancy with what one (Federal Aviation Administration) office said needed to be included in the documentation compared to what another office said they needed. We complied with everything that the FAA asked of us."
Med Flight helicopters undergo rigorous scheduled maintenance, Hanson added, and are checked daily by Med Flight's three staff mechanics as well as in FAA-required periodic inspections.
Noting that Wisconsin residents depend on the courageous work of Med Flight personnel in moments of peril, Gov. Jim Doyle said in a statement: "Dr. Darren Bean, Mark Coyne and Steve Lipperer dedicated themselves to rescuing people who faced the longest odds, and we owe them tremendous gratitude for their extraordinary service and dedication."
Ryan Haggerty and Ben Poston of the Journal Sentinel staff contributed to this report.