1st Help website connects EMTs, paramedics in crisis with life-saving resources
1st Alliance has launched 1st Help, a searchable database dedicated to finding emotional, financial and religious assistance for first responders and their spouses
---
By Doug Wyllie, Police1 Editor-in-Chief
The 1st Help website, which is a searchable database, connects police, fire, and EMS responders, dispatchers, and corrections officers — as well as their spouses — who are in crisis or at risk of suicide to emotional, financial and religious assistance. In addition to assisting first responders in finding crisis-specific help, the website will collect data on suicide and traumatic-stress events. This information will be used to save lives and improve the quality of life for first responders.
The goals of the new website and service are threefold: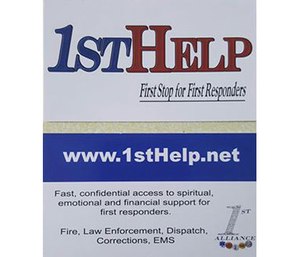 Provide a central, global support database so first responders can confidentially find spiritual and emotional help
Form an alliance of first responders that can change legislation and benefits
Collect PTSI and suicide data that can be presented to affect change
The project is the brain child of Karen Solomon, Jeff McGill and Steven Hough. Solomon is the author of "Hearts Beneath the Badge" and "The Price They Pay" — books that support law enforcement and reveal the trials and tribulations of the job. McGill and Hough are the co-founders of Type A Solutions, a training company focused on the needs of first responders.
EMS1 recently connected with Solomon to learn about the new service. 
Answering the call
"Over the last two years, I've spoken to hundreds of officers around the world — when my first book came out, it opened the floodgates of phone calls, emails, and messages on social media from officers who wanted to share their stories — wanted someone to hear them," said Solomon. 
"Each time I spoke to an officer I asked if they had sought help, most of them hadn't. The reasons were all the same — they were afraid to be seen as weak, fear of reprisal from their departments, upsetting their home life, and mostly facing their demons and having the person they are speaking to not understand what they are going through."
Solomon asked officers, "Have you heard of Safe Call Now or Heroes are Human or First Responder Support Network?" and most would reply that they hadn't. She couldn't believe what she was hearing — how could she know about these resources and they didn't? Solomon knew because each time she heard a story from an officer she felt compelled to find them some comfort.
"I would look for a resource for them and send it to them in hopes they would use it," Solomon said. "As I wrote the second book, I became increasingly frustrated with what was going on — the trauma, the suicides and the desperation. I began compiling a list of resources of law enforcement for the back of my book. It contains about 60 resources," Solomon said. 
Finding a home
McGill and Hough had bought the domain name "1alliance.org" some time ago in the hope of forming an alliance of first responders that could help each other — they never found the time. Solomon approached the pair with the suggestion that their site become the host of her list of resources, and they readily agreed. 
She then engaged the assistance of AVATAR Computing, a local computer company that "loves mission-based work" to help build the website, and began to raise funding to get the site built. Initial funding came from local Police and Sheriff's Associations in Massachusetts, and two first responder non-profit groups. Recently, the organization enlisted the help of injured Bourne (Mass.) Officer Jared MacDonald and his wife Kerry, who have a non-profit and are willing to take this under their umbrella. 
"Kerry has also been a key factor in getting the larger donations. A college friend of mine is donating business cards through his printing business, and gave me a deal on brochures and wallet cards with the website on them. The initial startup costs — less than $9K — all was funded through Massachusetts law enforcement associations, friends, Wounded Officers Initiative, and Protect and Serve," Solomon said. 
In immediate crisis
Upon landing on the website, the first screen will ask the first responder if they are in crisis and, if so, what country they are in. They will then be presented with the following information. 
•    United States: Safe Call Now, Serve and Protect, National Suicide Prevention Lifeline
•    Canada: Tema Conter Memorial Trust
•    Australia: Lifeline Australia
•    United Kingdom: Samaritans 
If a site visitor is not in immediate crisis, they can answer a few questions and have a list presented to them which will include a description of the organization. They can select which ones they want to print and/or download.
"The list will be comprehensive — PTSD, suicide prevention, recreational outings, spiritual help, service dogs," Solomon said. "I'm also beginning a section for training. I truly believe that each person is different and while some organizations promote only PhD's or only psychotherapy or only EMDR, I want to provide it all. Each person has unique needs and responds differently. If a first responder can improve their quality of life by petting turtles, I'm going to find them a therapy turtle and public opinion be damned. It's not about what I think — it's about what they think."
"I believe that if we can make this a tool that is regularly used, we can change the stigma attached to mental health of first responders. We can show how many of them are really affected, we can bring all of these organizations out in the open so that they become common names around the police station, firehouse, or dispatch room," Solomon said.
Presently, the service is available on a mobile-friendly website, but Solomon envisions one day also offering a mobile application, and her long-term plan is to continue collecting the data on suicide and PTSD so that awareness can be increased and positive change can be made. 
"I want to collect suicide data for five consecutive years so we can see what's really happening and how we can change that. The PTSD stories/data help to see where the issues are, whether or not they are getting help. I also plan to set up private forums for the providers that are listed so they can exchange ideas and best practices. People are re-inventing the wheel all over the place and don't realize someone is working on the same thing somewhere else. They can pool resources and do it more quickly and efficiently," Solomon said. 
Important details
It is important to note that the service will always be free to first responders and their spouses, and there is no charge to register a service organization to be listed in the database. The personal information — names, email addresses, and whatnot — about suicide and traumatic-stress is confidential. Personal information an individual enters about their traumatic-stress will not be shared with family, department, or other agencies. It is solely for their files in case they need to clarify a detail or validate the information. They want to provide statistics that may save other lives, not provide a vehicle to condemn yours.
Now that the service and the website are available, here are some of the things you can do:
•    When a first responder dies by suicide, report it.
•    If you are a first responder and have post-traumatic stress, report it.
•    If you know of a provider of any type of assistance for first responders, register them for inclusion in the provider database. 
About the author
Doug Wyllie is Editor in Chief of Police1, responsible for setting the editorial direction of the website and managing the planned editorial features by our roster of expert writers. An award-winning columnist — he is the 2014 Western Publishing Association "Maggie Award" winner in the category of Best Regularly Featured Digital Edition Column — Doug has authored more than 900 feature articles and tactical tips on a wide range of topics and trends that affect the law enforcement community. Doug is a member of International Law Enforcement Educators and Trainers Association (ILEETA), an Associate Member of the California Peace Officers' Association (CPOA), and a member of the Public Safety Writers Association (PSWA). Doug is active in his support for the law enforcement community, contributing his time and talents toward police-related charitable events as well as participating in force-on-force training, search-and-rescue training, and other scenario-based training designed to prepare cops for the fight they face every day on the street. 

Read more articles by Police1 Editor in Chief Doug Wyllie by clicking here.