6 strategies to protect first responders from fentanyl
Training, PPE and scene assessment will minimize the risks of opioid exposure to fire and EMS responders
---
Media-hyped accounts of police officers or paramedics who are alleged to have been overcome by fentanyl after caring for a patient might be causing responders to worry about their own safety.
Panelists at a Bound Tree Medical-sponsored discussion at an EMS World Expo conference, including a Drug Enforcement Administration chemist and an EMS medical director, shared six strategies to protect first responders during an opioid-related response:
1. Assess the scene for exposure risks and crime evidence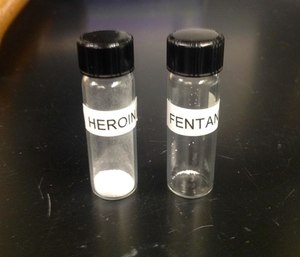 Use dispatch information to assess the risk for fentanyl exposure through inhalation or contamination to skin or clothing. Use the scene size-up to make decisions about PPE usage and requesting additional resources.
Every overdose incident is a potential crime scene. If EMTs, paramedics and firefighters arrive before law enforcement and notice evidence of drug use or paraphernalia, they should follow local protocols to request police response.
2. Pre-plan and train for fentanyl recognition and exposure
Because fentanyl derivatives are known to strongly bind with opioid receptors, responders are reporting an increasing need to stock more naloxone.
The InterAgency Board has recommended PPE use to prevent exposure to synthetic opioids after a detailed examination of available evidence.
3. Respiratory PPE is best protection against aerosolized fentanyl
When powdered fentanyl or other drug powders are known or suspected of being aerosolized, respiratory PPE is important. Inhalation is the easiest route for accidental fentanyl exposure and mucosal absorption is 30 times faster than transdermal absorption.
4. Use additional PPE for fentanyl overdose responses
In addition to a mask, the panel recommended nitrile, single-use examination gloves and safety glasses for most responses. When there are larger amounts of hazardous material or fire risk, the InterAgency board has additional recommendations for higher levels of protection.
It's especially important to use simulation training to be proficient in opioid patient assessment and care with a mask, gloves and eye protection.
5. Wash fentanyl-contaminated skin with soap and water
Responders should always wear gloves, but if their skin is exposed to fentanyl, they should first wipe the visible contamination from their skin. Next, wash skin thoroughly with soap and water, including a second water rinse.
Don't use any alcohol-based sanitizers on fentanyl-contaminated skin. Alcohol increases the rate of transdermal transfer by 100 times.
6. Recognize other threats, dangers
IV drug users regularly engage in other high-risk behaviors, so responders should keep the threat of hepatitis or HIV/AIDS in mind. Every organization has to have an exposure control plan.
---

Learn more
How to buy fentanyl protection products (eBook)
Download this EMS1 fentanyl protection products buying guide to learn key steps for product selection, purchasing and implementation
---
This article was originally posted June 6, 2018. It has been updated.