PRESS RELEASE
Blauer Presents Grant Information for Personal Protective Equipment
---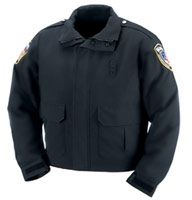 For fiscal year 2005, the Department of Homeland Security has allocated $3 billion in grant funds for state, urban, and local level first responders. This money, which is being administered through the Office of Domestic Preparedness (ODP), has been allocated to individual states and large urban centers for the purchase Personal Protective Equipment (PPE). Blauer's line of CROSSTECH® and ANSI 107 certified outerwear, pictured to the left, has been included on the ODP's Authorized Equipment List (AEL) under the category of PPE and is eligible for purchase. CROSSTECH® and ANSI 107 certified outerwear can be purchased at any of our authorized dealer locations.
Call your state's Homeland Security grant administrator TODAY to learn about your state's policies regarding eligibility of NFPA 1999 and ANSI 107 certified garments.
For a complete listing of state administrators and their contact information, please visit www.whitehouse.gov/homeland/contactmap.html
ADDITIONAL RESOURCES
For additional grant information and helpful resources, follow any of the links listed below. Alternatively, contact your state's Blauer representative or Tom Ames, Director of Marketing at (617) 536-6606 x1245.
www.blauer.com