PRESS RELEASE
Paramedic duo develop product for EKG interpretation and treatment
---
TAMPA, Fla. - Two Florida paramedics have teamed up to create, developed and launched a new product EKGs On One Page, which promises to transform the way healthcare professionals analyze and interpret electrocardiograms (EKGs). This innovative study and reference guide is specifically designed for swift cardiac rhythm identification and treatment, making it an indispensable tool for clinicians and students alike.
EKGs On One Page is the most comprehensive reference guide available, with a curated collection of 33 EKG rhythms and their associated treatments. No other existing reference guide or text has presented EKG identification and treatments in such an innovative and accessible manner.
The creators of this product are Larry Linder, Associate Professor at Hillsborough Community College and Judith Myette, paramedic at South Bay Hospital in Sun City Center, FL. The professional pair with a passion for emergency medicine noticed a void in a simple, easy way to study EKG interpretations.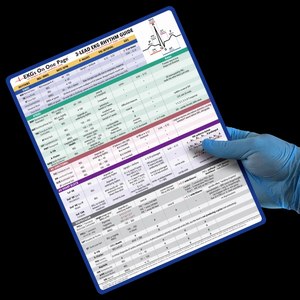 Often, students of this topic find themselves mired in texts and papers and with this in mind, they were able to consolidate and create a new system of learning this nuanced skill of interpreting electrocardiograms and their corresponding treatments. No other existing reference guide or text has curated EKG identification and treatments in this  innovative way.
Not only useful for students, EKGs On One Page is suitable for a wide range of medical professionals, including physicians, nurses, paramedics, medical students, and educators. Whether used as a quick reference during patient encounters or as a study aid for medical education, this groundbreaking product is set to become an essential tool in the field of cardiac diagnostics. 
EKGs On One Page is a first-of-its-kind solution that complements any EKG and Critical Care publication. Its unprecedented design allows for rapid analysis and recognition of EKG rhythms, revolutionizing the way medical professionals approach cardiac diagnostics. With this revolutionary guide, identifying and understanding complex EKG patterns has never been easier.
"EKGs On One Page is a useful approach to studying EKG ID and Treatments. I recommend this quick reference guide to anyone studying the science of EKGs or working in the medical field. It provides a vast amount of EKG information in a one-page document," says Dr. Robert M. Betzu, M.D., F.A.C.C.
To learn more about EKGs On One Page and to place an order, please visit www.ekgsononepage.com
Two-Sided, Durable Plastic Design: 
EKGs On One Page is built to withstand frequent use and ensure longevity. Its durable plastic construction ensures it can endure the demands of everyday clinical practice.
Color-Coded Layout: 
The guide's color-coded layout plays a crucial role in facilitating easy recognition and understanding of 33 different cardiac rhythms. Each rhythm is clearly marked on a single page, along with their corresponding treatments.
About EKGs On One Page
EKGs On One Page is a leading provider of innovative study and reference guides for the medical community. Their flagship product, EKGs On One Page, is a game-changer in the field of cardiac rhythm identification and treatment. By simplifying complex concepts into an easily accessible format, EKGs On One Page aims to revolutionize the way healthcare professionals approach EKG analysis.