Paramedic, nurse win simulation competition
The duo responded to a simulated accident in which they had to treat, extricate, and transport a patient trapped under heavy debris
---
TAMPA, Fla. — Life Link III's returning competitors, Laurie Smith, Certified Flight Paramedic, and Keith Velaski, Certified Flight Nurse, took home the 2016 CAE Cup at HPSN World 2016, February 16 – 18, 2016, in Tampa, Florida.
The Human Patient Simulation Network (HPSN) is the largest, global conference hosted by CAE Healthcare. The CAE Cup competition is comprised of real-time, intense simulation scenarios involving the latest technology in human patient simulation to challenge and test the skills of the best EMS professional, Paramedic, and First Responder teams from all over the world. These pre-hospital providers compete against their peers in live emergency simulation scenes to provide simulated patient treatment while following protocols.
The Life Link III team was dispatched to a scene of a man trapped beneath heavy debris. The team had to use their medical knowledge and abilities to treat, extricate, and transport the patient safely to the hospital. Smith and Velaski's critical thinking, life-saving capabilities, advanced skills and excellent team communication landed them as the winners of the prestigious CAE Cup.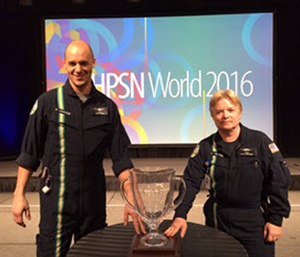 Simulation education and training is crucial part of Life Link III's continuing education program. It is a unique opportunity to provide evidence based learning from subject matter experts while demonstrating the life-saving care Life Link III clinicians provide daily.