CHS Healthcare earns NY innovation award for 'immersive' simulation training
The training program involves realistically-staged home environments and cameras that allow facilitators to monitor trainees' actions from a control room
---
By EMS1 Staff
HENRIETTA, N.Y. — A simulation training program that places EMS providers in a realistic work environment has earned CHS Mobile Integrated Healthcare an innovation award from the state of New York.
The program for paramedics, EMTs and in-hospital caregivers involves working through response scenarios with mannequins in a fully furnished home, staged to emulate "a captivating, realistic and immersive environment," according to a CHS media release.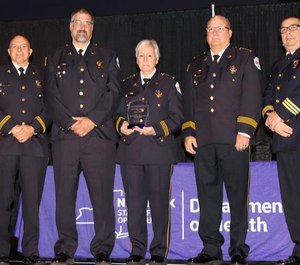 The rooms and ambulances involved in the training are equipped with cameras and microphones which allow facilitators to monitor the trainees' actions from a control room.
The New York Department of Health presented the award to CHS at the state's annual EMS conference, Vital Signs, on Sunday at the Buffalo Convention Center.

Request product info from top Patient Simulation companies
Thank You!