Using 'Paramedico: Around the World by Ambulance' in your training
"Paramedico" the book and movie offer insight into how EMS operates in other countries — it's worth taking notes
---
This article was originally posted Feb. 4, 2014. It has been updated
"Paramedico: Around the World by Ambulance" is one of the top additions to the genre of EMS literature and film. I highly recommend it to EMS professionals and educators to incorporate into paramedic training.
"Paramedico" book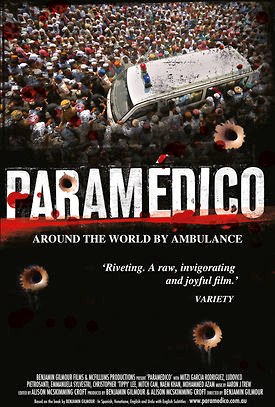 The book Paramedico is divided into chapters for each location Australian paramedic Benjamin Gilmour visits around the world over a 15-year period. Each chapter is rich with detail about the country, patients, and EMS professionals. Gilmour's writing is so vivid that I often felt as if I was standing with him in the patient's home or looking down at a recently shot murder victim.
"Paramedico" movie
The "Paramedico" movie is a documentary of Gilmour's ride time with four of the services chronicled in the book. Each location - Mexico City, Honolulu, Venice, and Lahore, Pakistan - has its own storyline and cast of characters that comes together to tell a captivating story of the similarities of paramedics around the world (Watch the full film below).Learn about EMS around the world
"If you know about one EMS system, you know about one EMS system"
Too often that is said to close a door to learning about other EMS systems. In reality, it should be an invitation to learn more. With his pen and camera, Gilmour teaches about the challenges and rewards of paramedics in other places. Some are very similar, and others are very different. Regardless, you don't really know a paramedic until you have ridden in their ambulance.
As you watch and read, appreciate what works well in your system and be empathetic to paramedics who face trials and tribulations greater than yours.
Patient care scenarios
Many top paramedics are always playing the "what if" game by mentally reviewing how they would care for a patient in a television show, book or movie. Gilmour witnesses patients and situations from the mundane to the extraordinary.
How would you care for the same or similar patients with limited or improvised equipment?
As you watch "Paramedico" the movie with a group of paramedic students, pause to discuss pathophysiology and indicated interventions for the patients in the film. Use the patients Gilmour encounters as the basis for high-fidelity patient scenarios.
Connect for real
Add an international component to your next EMS Week celebration by inviting Gilmour or another paramedic to be a guest speaker by web meeting. Use the Sister Cities International City Search to find your community's Sister City. Invite a paramedic from that community to be a part of your EMS Week events.
Watch 'Paramedico' here
Share your review of "Paramedico" in the comments. How can educators, students and EMS professionals use "Paramedico" to improve their knowledge and skills?

Request product info from top EMS Education companies
Thank You!