Reality training: Administering pediatric medication
Use this hands-on training exercise to improve equipment familiarity, reinforce medication cross-check processes and increase provider confidence to treat sick kids
---
Administering pediatric medication can be one of the most dangerous and anxiety-provoking procedures paramedics perform. It is also a situation that is rarely encountered by most paramedics, which leaves few opportunities to practice and to build confidence.
Studies on medication administration, in real and simulated pediatric patients, show frequent and sometimes fatal medication errors even when reference tools are used. Paramedics and students need realistic training to help prepare for these high-risk, low-frequency situations.
One study found that over one-third of the 360 medications administered to children over two years were incorrect. Eighteen percent of those patients received a dose greater than 20 percent outside of the correct dose range. Paramedics also rarely performed pediatric medication administration in this study.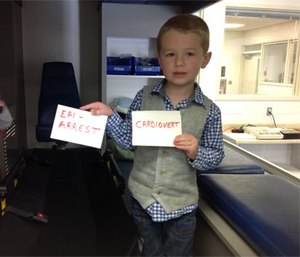 In another retrospective chart review study, children under 12 years old who received a medication made up less than 1 percent of EMS responses, and only one-third of paramedics administered any medications to children over the study period [1].
A study of a simulated pediatric anaphylaxis scenario found that over half of paramedics administered an incorrect dose of epinephrine, and 20 percent administered a higher epinephrine dose than an adult in cardiac arrest should receive. This was despite paramedics using a number of reference tools during the scenario [2].
Weight-based pediatric medication administration involves several steps, and there are opportunities for error at each one. Pediatric emergencies are also stressful situations, which further compromises cognitive skills. A study examining the root causes of errors in pediatric simulation identified these nine causes.
Incorrect use of the Broselow length-based resuscitation tape.
Impaired calculation ability under stress.
Inaccurate weight estimate.
Faulty recall of doses.
Unaided calculations.
Wrong milligram/kilogram dose for route of administration.
Errors converting the dose in milligrams to volume administered in milliliters.
Volume measured from wrong end of prefilled syringe.
Failure to cross-check calculations.
Two of the author's recommendations are to provide "hands on continuing education of pediatric medications and drug dilutions, using syringes to draw calculated volumes of medications in the context of a simulated case," and "periodic competency testing on the use of medication dosing reference cards or other cognitive aids" [3].
Hands-on training
Here is one exercise that gives participants several opportunities to practice the steps of medication administration and to gain experience using reference tools for children of different ages and sizes in a short period of time.
First, make index cards with a medication and a condition it is used to treat. Some examples are:
Epinephrine: one card for cardiac arrest and another for anaphylaxis.
Benzodiazepines: Midazolam, lorazepam, or diazepam for seizure treatment.
Dextrose: for hypoglycemia (which may need to be diluted from a 50 percent to 25 percent concentration).
Fentanyl or morphine: for pain management.
Naloxone: for opioid overdose reversal.
Diphenhydramine: antihistamine for allergic reaction.
Adenosine: for supraventricular tachycardia.
Amiodarone: for cardiac arrest.
Next, get a supply of expired medications, fill empty medication vials with fluid or label training vials with the medications you plan to use in the training session. Store the medications in drug kits similar to ones used in the field.
Then recruit some pediatric volunteers. Have training participants bring their children to training, have an open house or community outreach activity at a station or arrange a visit to a school or daycare center. Give each child one of the cards. Instruct the children to hand the card to a team of two paramedics or students.
Using reference tools, have the team practice estimating the child's weight, determining the dose of the medication on the child's card in milligrams, the volume of medication in milliliters that should be administered and the route of administration.
Have one participant draw the amount of the simulated medication into a syringe (or identify the volume if the medication is supplied in a prefilled syringe), verbalize and confirm with a partner the dose, volume and route to administer, and waste the fluid in to a sink or garbage can.
Teach your students or personnel to use this medication cross-check process (also see video at the end of this article) or something similar and specific to your department's protocols.
Give the children different cards throughout the exercise and have them rotate among the paramedic teams. This training exercise exposes participants to a variety of conditions, patient sizes and medication doses to calculate.
Here are seven tips to make the exercise a success.
Make it fun for the kids. Incorporate the exercise into a station open house or community outreach activity. Rent an inflatable bounce house, hand out coloring books and junior paramedic stickers, or use it as an opportunity to promote bike or pool safety.
Use blunt tips for syringes instead of needles to make sure the children are not fearful of getting an injection.
Use the exercise to identify areas for system improvement not to punish individuals for making mistakes.
Test different strategies in crew resource management and medication cross checks, and measure how long it takes to determine the accurate dose of the medication.
Get samples of pediatric medication reference tools to pilot during the exercise and see which one works best for your service.
Investigate how pediatric equipment is organized in bags.
Debrief after the exercise. Ask participants how comfortable they feel administering medications to children and how the process can be improved.
In the comments share your experience with this training activity or something similar, as well as your questions for improving pediatric medication administration.
References:
Hoyle JD, Davis AT, Putnam KK, Trytko JA, Fales WD. (2012) Medication dosing errors in pediatric patients treated by emergency medical services. Prehospital Emergency Care, 16:1, 59-66.
Lammers R, Willoughby-Byrwa M, Fales W. (2014). Medication errors in prehospital management of simulated pediatric anaphylaxis. Prehospital Emergency Care, 18:2, 295-304.
Lammers R, Byrwa M, Fales W. (2012). Root causes of errors in a simulated prehospital pediatric emergency. Academic Emergency Medicine 19:37-47

Request product info from top EMS Education companies
Thank You!