Study: Hands-only CPR training kiosks just as effective as classrooms
The American Heart Association found that a five-minute CPR lesson at a kiosk teaches people the lifesaving skill as well as a 30-minute class
---
DALLAS — A recent study found that Hands-Only CPR training kiosks are just as effective as a training class.
According to research by the American Heart Association, people who use a five-minute kiosk to learn Hands-Only CPR can perform the lifesaving skill as well as those who took a 30-minute class led by a facilitator.
"Less than half of out-of-hospital cardiac arrest victims receive CPR from a bystander, which is a grim statistic that we need to improve," John Meiners, the Association's Chief of Mission Aligned Businesses and Healthcare Solutions, said. "The study provides insights on Hands-Only CPR education methods that deepen our understanding of how people can continue to be trained more efficiently and effectively, so they'll feel empowered and confident to take action."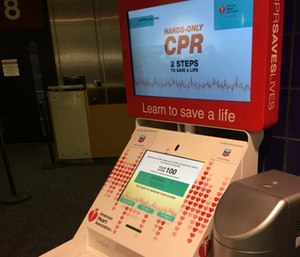 The study compared facilitator-led classroom training – which allows the participant to practice CPR with the help of an instructor – against both kiosk-based training which uses high-fidelity manikins to provide feedback on the CPR quality and a one-minute public service announcement.
Researchers found that when they evaluated the CPR skills of the people who watched the one-minute video, the scores were lower than that of the people who took the 30-minute class. However, there was no significant difference in the scores between the kiosk participants and the class participants.
"Participants in the kiosk session performed as well as those in the classroom session in total score and compression rate," the press release said. "The kiosk users had poorer performance on compression depth, which suggests that this could be an area for improvement in the kiosk's instruction and feedback."
Study co-author Lana Gent said the more someone practices CPR, the more they will improve. She added that kiosk-based learning is a good option for those who want to learn or reinforce their skills in Hands-Only CPR.
"We have heard stories from people who have saved a person's life after learning Hands-Only CPR at a kiosk, as well as stories from healthcare providers who use a kiosk to refresh their skills between flights at an airport, " Gent said. "Based on the findings from this study, we hope to have more kiosks placed in high-traffic locations."

Request product info from top EMS CPR & Resuscitation companies
Thank You!