New mobile app takes CPR to the next level
Using crowdsourcing to connect trained citizens to cardiac arrest victims
---
If you have any experience in EMS, it should be pretty evident that survival from sudden cardiac arrest is wholly dependent on a system of careful steps that are rapidly and reliably implemented. Nowhere is it more crucial than right up front - when the patient collapses. Every minute it takes for professional responders to arrive at the patient's side translates to the increasing probability that the patient will not survive. Unless the bystander is in the immediate vicinity of the patient - in the same room literally - that cardiac arrest will not receive the benefit of early CPR and defibrillation. 
It would make a lot of sense to somehow be able to locate laypersons trained in CPR in the vicinity of a possible cardiac arrest and guide them to the scene. Add to that the ability to locate a nearby AED and you have an infrastructure that gives the patient a fighting chance of survival. Question is, how can that be done?
Well, technology steps in and provides a solution. During the 2013 EMSWorld Convention and Trade Show, Physio-Control announced that they were partnering with the PulsePoint Foundation to speed up implementation of what is essentially a crowdsourcing solution.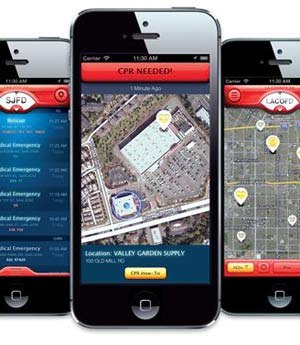 PulsePoint is a technology that harnesses the power of smartphones to receive information about a cardiac arrest that has happened within their vicinity through a free mobile app. The information is fed through software that is embedded within that community's public safety answering point's (PSAP) communication system, which functions silently in the background as the telecommunicator takes the initial call and dispatches resources. The app also provides potential CPR-trained bystanders with the location of any nearby AEDs.
"It is our hope that we can get this technology installed from coast to coast," said Richard Price, a retired fire chief and and executive director of the PowerPoint Foundation. "We know that time makes a difference [in sudden cardiac arrest], and we want the right sources to be there at the right time."
We have been pushing to increase community CPR activities for some time now. Compression-only CPR is highly effective and easy to learn. Systems across the country are participating in mass training events as well providing traditional classes. In areas where they've been doing it for a long time, there is indeed a better chance of survival.
The app is already operating in 400 communities across the United States, including Los Angeles County and soon in Las Vegas. It has been activated more than 1500 times, resulting in 5000 notifications. A 3-year clinical study is about to begin in Toronto, where the app will be activated on alternate events. Researchers will compare survival rates and other parameters between the two groups.
The Physio-Control/PulsePoint initiative is another plank upon which to build a better model for cardiac arrest resuscitation. The stakes couldn't be any higher, when lives hang in the balance.

Request product info from top EMS CPR & Resuscitation companies
Thank You!