Dallas paramedics offering free CPR training at airport
Paramedics from several EMS agencies teaching hands-only CPR to passengers at the Dallas/Fort Worth International Airport
---
By EMS1 Staff
DALLAS — Airline passengers have the opportunity to receive free CPR training by paramedics.
NBC DFW reported that paramedics from MedStar, D/FW International Airport Department of Public Safety and AMR have teamed up to teach hand-only CPR free of charge to people flying out of the Dallas/Fort Worth International Airport.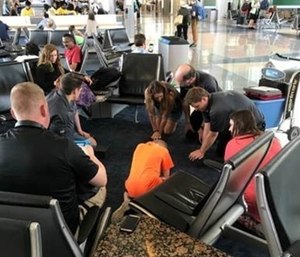 "Compression-only CPR can help save lives and is easy to perform," MedStar CEO Doug Hooten said. "While our paramedics often get to an emergency quickly, immediate action during cardiac arrest can make the difference between life and death."
As of Thursday, MedStar strategic integration officer Matt Zavadsky said over 600 people were already trained at the airport, and the crew was asked to repeat the event next year.

Request product info from top EMS CPR & Resuscitation companies
Thank You!