Analysis of recorded CPR cases improves ED resuscitation outcomes
A team of researchers and physicians developed a format for reviewing and reforming CPR practices to improve cardiac arrest survival rates
---
By Rachel Engel
MANHASSET, N.Y. — A new approach to improving cardiac survival rates through CPR administration uses clinical analysis of recorded cases to reform current practices.
A team of researchers and physicians at The Feinstein Institutes for Medical Research and North Shore University Hospital (NSUH) created the Mechanical, Team-Focused, Video-Reviewed Cardiopulmonary Resuscitation (MTV-CPR) method to increase the return of spontaneous circulation (ROSC) rate of cardiac arrest patients pre- and post- MTV-CPR intervention.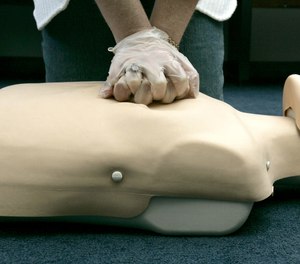 Through video analysis, experts were able to make specific recommendations for improving outcomes by implementing personal feedback for those placing mechanical chest compression devices on patients, reduced chest compression interruptions, developed new assignment roles for an eight-person response team and created new coordinated transition methods for technicians to go from manual to mechanical CPR.
The 2018 study, published in the Journal of the American Heart Association, monitored 151 cardiac arrest patients and found that 41% achieved ROSC after MTV-CPR interventions as opposed to 26% without.
"It was a simple, yet powerful idea; use overhead video cameras to record and then later review the process of our staff administering mechanical CPR in our emergency rooms to improve outcomes," NSUH Emergency Department Chair Dr. Lance Becker, who is also a professor in the Institute of Bioelectronic Medicine at the Feinstein Institutes, said. "Our data support the benefit of actively reviewing and improving on real-world CPR techniques to save peoples' lives. When we saw a problem, we developed new protocols to overcome each challenge."

Request product info from top EMS CPR & Resuscitation companies
Thank You!