50-year veteran EMS volunteer thanks colleagues for saving his life
Eden Emergency Response and Rescue Volunteer David Cole was resuscitated by fellow EMS providers last month
---
By Laura French
EDEN, N.Y. — A veteran EMS volunteer who suffered a cardiac arrest last month thanked the colleagues who saved his life at a ceremony on Thursday. 
Dave Cole, who has served with Eden Emergency Response and Rescue for 50 years, was working at the American Legion Post 880 on March 16 when he collapsed and went into cardiac arrest, according to WIVB. Fellow Eden EMT Ken Franz, who had happened to stop in moments earlier, found Cole and began CPR, according to WGRZ.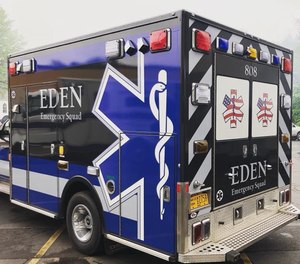 Other Eden EMS members soon responded to the call. Eden Paramedic Scott Hultquist, who had just finished working an overnight shift when he awakened to answer the call, said he was surprised to see that the patient was Cole, who had trained him at the start of his EMS career. 
The Eden EMS members worked to save Cole's life, using a LUCAS automatic compression device and transporting him to the hospital, according to Eden Emergency & Rescue Squad. After a 10-day hospital stay, Cole was discharged and returned home. 
Eden Emergency & Rescue Squad credited a total of 17 people for jumping into action to save Cole's life. Cole met with his colleagues on Thursday to thank them and present each of them with a certificate honoring their actions. 

Request product info from top EMS CPR & Resuscitation companies
Thank You!