Behind the scenes: How Wis. public safety video became viral hit
EMS, fire, police, and comm center personnel volunteer their time to create a fun video for their beloved hometown
---
JANESVILLE, Wis. — The Rock County 911 Communication Center and the agencies it dispatches created their own Uptown Funk lip sync video to better connect with the community, show their hometown pride, and to inspire other public safety agencies.
The rapidly spreading and widely shared viral video was filmed in a single afternoon in downtown Beloit and features a core cast of 911 telecommunicators, police officers, and fire/EMS personnel. The video was organized by Kathy Sukus, Director, Rock County (Wis.) Communications Center.
"I was really hoping to bring some smiles to the citizens of our community and appreciation to public safety personnel," said Sukus.
The video is the second organized and directed by Sukus. The first video, a public service campaign for the public to call 757-2244 instead of 911 for non-emergencies, was inspired by a video from from the Franklin (Tenn.) Police Department.
"After we did our 757-2244 video we regularly received links to other videos of singing firefighters and police officers," Sukus said. "People kept asking me when we do another video."
The idea to use Uptown Funk first came to Sukus, an avid runner, as she ran last fall. "I kept thinking about doing a video for this song, but wanted to wait until the weather was better and we could film the video outdoors and feature my hometown, downtown Beloit."
After receiving permission to organize and film the video from her county administrator, Sukus moved forward with casting and filming.
"I knew another department had recently created an Uptown Funk video, but was not aware of others when our project got underway," Sukus said.
Video cast features comm center, police, fire and EMS
The Rock County Communications Center is the only dispatch center for all of the police, fire, and EMS agencies in the county, including the police and fire departments for the cities of Beloit and Janesville.
"A lot of us have grown up here. We exercise and train together. We collaborate with and support one another," Sukus said. "We get along really well."
A primary reason for doing the video is to showcase the relationships and positive interactions among the public safety personnel in the county. The core people featured in the video - all public safety personnel - required little convincing to be involved. "The 'hammier' people gave me a little smirk when I asked and were quick to say yes," Sukus said.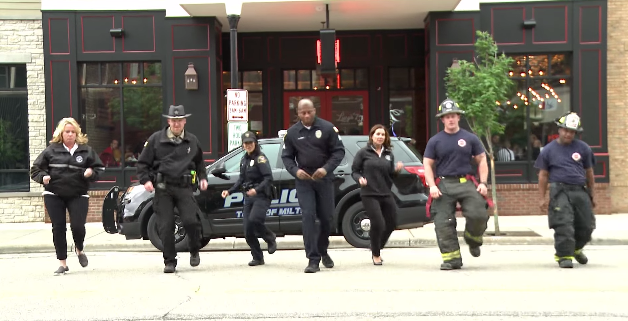 The core cast of the Rock County Uptown funk, shown from left to right, is Kathy Churchill, 911 supervisor and public educator; Luck Ducharme, Rock County Sheriff Deputy; Carmen Roche, Janesville Police department and former dance teacher; Andre Sayles, City of Beloit Police sergeant; Kathy Sukus, communications director; Ace Hanaman, Beloit Fire Department FF/paramedic; and Decarlos Nora, Town of Beloit Fire Department FF/EMT.
All of the personnel in the video volunteer their time, including two graduating Beloit high school seniors that donned the Sparky the Fire Dog and McGruff the crime dog costumes.
"Kolten Bell, as McGruff and Christian Schober, as Sparky, did a great job," Sukus said.
Positive message for the community
Rock County and its public safety personnel are not much different than other communities across the country. A refurbished downtown and lifelong residents, dedicated to the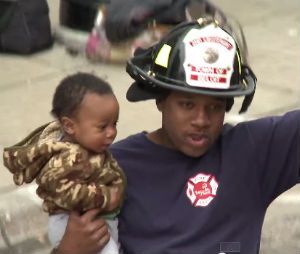 FF/EMT Decarlos Nora showing off his Uptown Funk dance moves with his son.
community, are buffering against news of violence, shootings, and negative public sentiments.
"I am proud to be from Beloit," Sukus said. "I want the public to see the good stuff or lighter side of their public safety personnel. And help have a better bond, especially with the youth in our community."
The 911 center has received an overwhelmingly positive and supportive response for this video. Some commentators have described the video as a "shot in the arm" and "just what we needed."
"Of course there are always a few naysayers, but other citizens are quick to respond with support and remind others that these are stressful jobs," Sukus said.
Filming and editing
The Rock County Uptown Funk video was filmed with a single camera by a local media creator.
"Tony Huml did the filming and editing and gave us a great deal," Sukus said.
Sukus, the core cast, and other participants shown in the film spent about two hours filming on May 30. Afterwards, Huml completed editing of the video and it was posted to the Rock County YouTube channel, already collecting nearly 450,000 views.
Next video is already in the works
Sukus would not tip her hand on the next video from the 911 center, only saying it is "not a new song and was popular in the last five years."
Rock County will be the first county in the state to accept text messages to 911 and Sukus hinted that will be the topic of the next video.
"One video a year is probably the right amount and we might wait to launch until the April 2016 telecommunicator recognition week. We hope to inspire other public safety personnel with this video," Sukus said. "Your community will appreciate it and love it."

Request product info from top EMS Communications companies
Thank You!