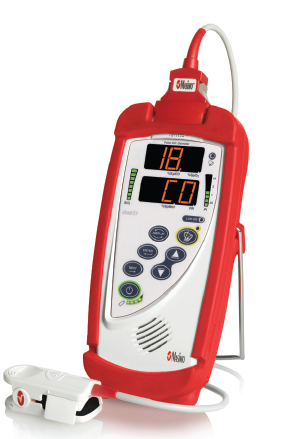 What is Masimo Field Product Training?
Masimo offers field product training courses on Masimo technologies used in Emergency Medical Services (EMS), Military, Fire, and Transport departments, including the Rad-57® Pulse CO-Oximeter® and multi-parameter monitor defibrillators with integrated Masimo technology
As part of the training, Masimo Clinical Educators reinforce the importance of monitoring for carbon monoxide exposure, understanding rainbow SET™ parameters, and how rainbow® technology noninvasively monitors several parameters important to transport departments, such as oxygen saturation (SpO2) and carboxyhemoglobin (SpCO®)
Field product training is recommended at initial purchase, then every three years or as needed
Why Conduct Training?
EMS and fire departments around the country often equip crews with a variety of medical devices and other tools that may be used on every call or only infrequently. Staff turnovercan be challenging for departments seeking to promote the appropriate use of devices and equipment.
Departments seek ways to improve the quality of patient care
Field product training reinforces the appropriate utilization of Masimo technologies in an effort to increase awareness of the full capabilities of a department's product resources
How To Make It Happen
Contact your Masimo representative or email producttraining@masimo.com
Schedule an on-site training
A Masimo Clinical Educator will provide on-site classes at your training facility
Training includes content on the use and importance of Masimo SET® and rainbow® technologies
Case Study
Training Impact
The Olathe, Kansas Fire Department experiences the benefits of training
Three years after initial purchase, a Masimo sales representative suggested Masimo field product training to the Olathe Fire Department in Olathe, Kansas. In December 2016, Masimo Clinical Educators conducted a retraining for Olathe Fire Department personnel.Within a day of training, the department responded to a 911 call regarding a female occupant of a local apartment building who reported feeling dizzy. Upon arrival, they also encountered a second occupant who was acting strangely.The firefighters deployed both an RAE Systems 4-gas meter and Rad-57 devices, recalling the need to monitor when symptoms of CO exposure presented. The 4-gas meter noted a carbon monoxide reading of 180 ppm inside the apartment, well above the safe level of ≤9 ppm. Rad-57 indicated carboxyhemoglobin levels of 20% and 32% in the two occupants under observation; both SpCO readings were well above typical levels of <2-3% for non-smokers and 2–4% for smokers. The first responders immediately evacuated the apartments of the 32 occupants inside at the time. All occupants recovered and no one sustained lasting injury. During investigation, four furnaces were found to be faulty, resulting in the circulation of CO throughout the building. Prolonged exposure could easily have proven fatal.
For more details contact your Masimo representative or email ProductTraining@masimo.com