How to improve sepsis care with better EMS education
EMS educators can improve sepsis patient outcomes by ensuring EMTs and paramedics have knowledge appropriate and impactful training
---
Sepsis education, just like education for trauma, STEMI and stroke can improve EMS provider recognition, assessment, alerts and treatment to improve sepsis patient outcomes [1].
Rather than dwell on explanations of complex physiology, sepsis education should focus sharply on improving EMS providers' capabilities and performance. Your audience may arrive knowing little about sepsis, but should leave energized and motivated to use their existing and new knowledge to make a difference in the lives of patients and their families.
Leverage existing sepsis education resources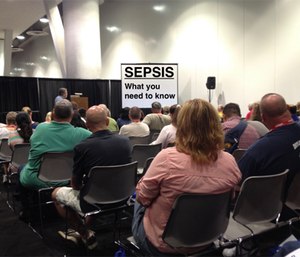 There are many great sepsis education resources available to EMS educators. Some of them may work well for you out-of-the-box, while others may need to be customized for your EMS system. These education resources include:
The UK Sepsis Trust: Excellent EMS-focused education resources. Note that some of the resources are geared toward the United Kingdom's National Healthcare System.
The Sepsis Alliance: Great resources for both health care providers and laypeople. Numerous personal stories and case studies are available.
The Surviving Sepsis Campaign: Important for understanding the goals of in-hospital sepsis treatment and the coordination between hospital staff and prehospital personnel.
The National Institute for Health and Care Excellence: Another United Kingdom site with evidence-based infographics and real-world recommendations on putting sepsis education into practice for EMS.
RescueDigest: A collection of primarily pediatric focused sepsis resources for EMS providers including sample EMS sepsis protocols.
Evaluate your system's sepsis protocols
Identify any current sepsis alert criteria and sepsis protocols in use at your receiving hospitals. Review these to focus your education programs to strengthen core skills used in the protocols for identification, assessment and treatment of sepsis such as end-tidal CO2 monitoring. Now may be the time to make changes to your system's capabilities and procedures, such as instituting lactate monitoring, so that you can more easily incorporate the necessary education.
The best time to improve sepsis protocols is before delivering your sepsis education program. However, if changes to your system are slow in coming you may wish to deliver a fundamentals of sepsis program and follow-up with updates and improvements education when your system changes are ready to deploy.
Consider your audience
Ask and answer these important questions to determine what aspects of sepsis you need to focus on during a training program and what you should omit.
What is the background of sepsis education for your audience?
Are there recently trained providers who may have received sepsis education in initial certification class?
Are there providers who are experienced yet may not have heard much about sepsis until now?
What are their capabilities? Are they ALS, BLS or a mix?
What does the person who knows the most about sepsis know?
What does the person who knows the least about sepsis know?
Use informal conversations with crew members for a quick assessment of their previous knowledge. For a larger audience and in-depth program a more formal pre-course survey might be useful to create a needs assessment and course objectives.
Keep it simple, but don't oversimplify
Sepsis has a complex and poorly understood pathophysiology. Don't get stuck in the weeds trying to make everyone in the room a physiologist. Establish the key role EMS providers will play in the sepsis system of care and emphasize how they will accomplish it.
I use a simple mnemonic as the framework to teach sepsis which generally matches how providers will encounter and recognize sepsis on a real patient call. The framework is to follow the patient's CHART.
Complaints: Do the patient's complaints indicate infection or unexplained shock?
History: Is the patient pre-disposed to infection or shock?
Assessment: Check sepsis-specific criteria.
Red Flags: Put together clues and cues from the patient's complaints, history and assessment for a formal or informal sepsis alert.
Treatment: System and provider specific sepsis treatment recommendations.
Use sepsis patient case studies
Big numbers grab attention, but strong stories compel action. There is nothing wrong with using data to make a teaching point, but you have to put a face to those numbers.
The Sepsis Alliance: Faces of Sepsis section and the UK Sepsis Trust feature a number of tributes to victims of sepsis as well as stories of sepsis survivors. Consider including these in your program to emphasize the real-world difference that EMS providers can make now that they know how to better recognize, assess and treat sepsis in coordination with hospital sepsis specialists.
Emphasize the top take home points
As you finalize your sepsis education program, keep the focus on the top take home points for your audience. They don't have to be sepsis experts, but each attendee should leave your program understanding your system of care for sepsis patients and the importance of the role that they play in improving outcomes for the sepsis patients they encounter.
References
1. Guerra, W. F., Mayfield, T. R., Meyers, M. S., Clouatre, A. E. & Riccio, J. C. Early detection and treatment of patients with severe sepsis by prehospital personnel. J Emerg Med 44, 1116, 1125 (2013).
2. Herlitz, J. et al. Suspicion and treatment of severe sepsis. An overview of the prehospital chain of care. Scand J Trauma Resusc Emerg Med 20, 42, 42 (2012).
3. Wang, H. E., Weaver, M. D., Shapiro, N. I. & Yealy, D. M. Opportunities for Emergency Medical Services care of sepsis. Resuscitation 81, 193, 197 (2010).
This article, originally published on March 30, 2017, has been updated.