6 capnography monitor tips for capturing a clean waveform
Going back to the basics ensures a smooth EtCO2 reading and creates a calming environment for both the patient and provider
---
Utilizing capnography technology should be standard practice in today's ALS ambulance – if it's not, we really need to talk! However, where capnography integration gets a little "muddy" is when non-ALS providers are utilizing tools to help ALS providers, such as on scenes with patients experiencing dyspnea, apnea or any other form of problematic "-pnea."
So, let's reduce the risk of operator error by addressing some basic capnography recommendations for best results. Whether these tips are new to you or serve as a refresher, there's something for everyone. 
1. Ensure your adapter is properly connected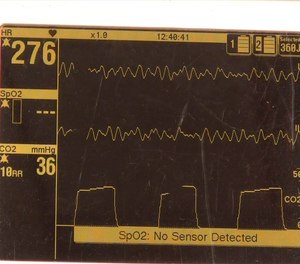 While checking to ensure the adapter is connected correctly sounds like common knowledge – and it should be – it's still worth pointing out because it can also be a very real problem. If providers don't know where to connect the screw-in adapter, then properly connecting it to your monitoring device simply won't happen. On that note, remember that the EtCO2 tubing adapter has a screw-in adapter, which indicates it will be inserted into a screw-in port. If you're connecting it anywhere else, it's likely in the wrong place, such as a blood pressure cuff connection port. Additionally, there's typically a slide-over, protective covering over the opening, which can help locate the proper port.
2. Train all providers on how to set up monitor
Addressing the prior issue, properly training all relevant people on how to set up the capnography monitor will set them up for success early on. This means that your EMT partner and even your EMR first responders should know how the machine connects. From a technical standpoint, as the ALS provider, you need to train others on how to technically perform this task.
3. Plan to monitor all necessary patients
When it comes to capnography, the "right" patient is just about any patient who requires oxygen therapy or monitoring. That's right – nearly all of them. Now, EtCO2 and capnography monitoring do not tell us anything about pulse oximetry or oxygenation. Rather, the focus here is that if your patient needs oxygen monitoring – or even oxygen therapy – you also need to monitor for the overall process of respiration, which includes exhalation of CO2 and perfusion, as it, too, relates to hypoxia and hypoxemia. As a result, if you're administering oxygen to your patient but not fully monitoring them, then you need to ask yourself two questions: why aren't you fully monitoring their breathing and why are you giving them more oxygen?
4. Help the patient with a secure mouthpiece fitting
Providers should ensure the capnography monitor's mouthpiece air collection port is properly placed over the patient's mouth and that the nose pieces are properly placed in each nare. Over time, the mouthpiece tends to move or migrate away from the correct position as the patient talks or gestures, so check that all components are aligned correctly for a successful reading.
5. Connect the monitor close to the patient
If connecting an in-line adapter to a series of tube connections, the most-optimal position for the EtCO2 connection piece to be placed is closest to the patient, even before any air filters or tubing extensions. Doing so will allow for the freshest source of exhaled air to be captured for reading.
6. Encourage the patient (and provider) to breathe normally
Instructing the patient to breathe normally helps ensure a crisp and clean waveform is captured. This may be easier said than done – and if the patient isn't breathing, well, you can figure out what the result of any instruction will be. Breathing normally, or attempting to, won't interfere with any "sharks" in the area; you'll still see incomplete alveolar emptying (shark fins) on the monitor and printed capnograph strip. You'll just see it more clearly now – which is a good thing!
By the way, breathing normally helps keep the provider calm, too.
Stay safe!
---

Read next:
Should waveform capnography be in the EMT scope of practice?
Exploring the limitations of lung auscultation and pulse oximetry
---

Request product info from top EMS Capnography companies
Thank You!